Bond Proposal May 2, 2017
BOND FACTS

PROPOSED BOND ISSUE IMPROVEMENTS - FACT SHEET


PROPOSED BOND ISSUE IMPROVEMENTS - SITE MAPS


PROPOSED BOND ISSUE - FREQUENTLY ASKED QUESTIONS (FAQ)

It is the continued mission of Allendale Public Schools to educate, inspire and support all students.

As we look to the future of Allendale Public Schools, the Board of Education is asking you to vote on a bond proposal on Tuesday, May 2, 2017, for improvements to address identified and ongoing needs.

This bond proposal would generate $29,555,000. These dollars would be spent gradually over the course of five years to provide for the continuing needs of our schools.

It is projected that the debt tax rate would increase by approximately 1.06 mills over last year's debt millage. This equals approximately an additional 53% per year for each $100,000 in market value of your home.
The proposal focuses on four key, district-wide areas:
GROWTH
SAFETY AND SECURITY
EDUCATIONAL TECHNOLOGY
BUILDING AND SITE IMPROVEMENTS
Pursuant to State law, expenditures of bond proceeds must be audited, and the proceeds cannot be used for repair or maintenance costs, teacher, administrator or employee salaries, or other operating expenses.
Public forums will be conducted on Monday, February 20 6:30 pm, (Board Conference Room at Oakwood Intermediate School), Wednesday, March 15 (7 pm, Media Center at Allendale High School) and Tuesday, April 18 (7 pm, Cafeteria, Evergreen/Springview Elementary School). Specific project listings and renderings files are attachd to this article and on display at each school. If you have further questions, contact Superintendent Dan Jonker, at (616) 892-5570.
# # #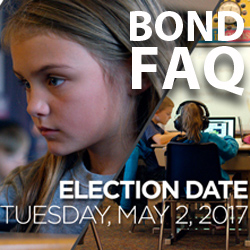 VOTER INFORMATION
Voter Registration Deadline: Monday, April 3, 2017
Absentee Voting: Contact your precinct; ballots available by Saturday, March 18, 2017
Vote Date: Tuesday, May 2, 2017, 7:00 am to 8:00 pm
Poll Locations: Registered voters may cast a ballot at the polling location established by the township