DISTRICT NEWS
Subscribe to District News

View Archives
October 15, 2018
Love INC can help if you need winter apparel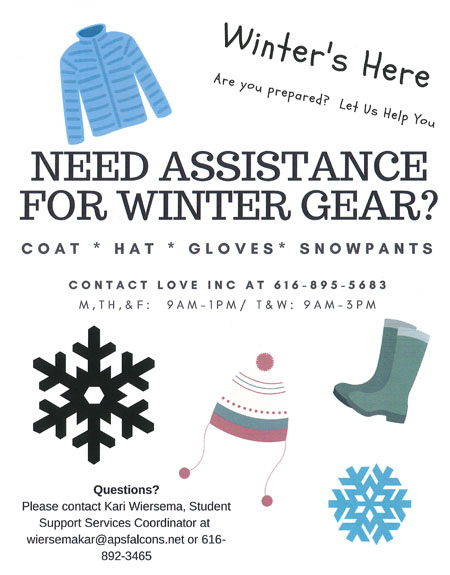 October 8, 2018
Enhancement Millage Information

http://www.allendale.k12.mi.us/district/communication/community-announcements/
On Tuesday, November 6, voters will go to the polls to vote on the Quality Schools Quality Communities (QSQC) Enhancement Millage. The link above will take you to the page on our website to read important information about this regional ballot proposal and find answers to frequently asked questions. In addition, you can learn more about the millage and what it means for our community during one of our presentations. Join us Tuesday, October 23, or Tuesday, October 30 from 6 PM - 7 PM in the Oakwood Board Room for a presentation by Dr. Cooper.
October 3, 2018
Special Needs Transition Night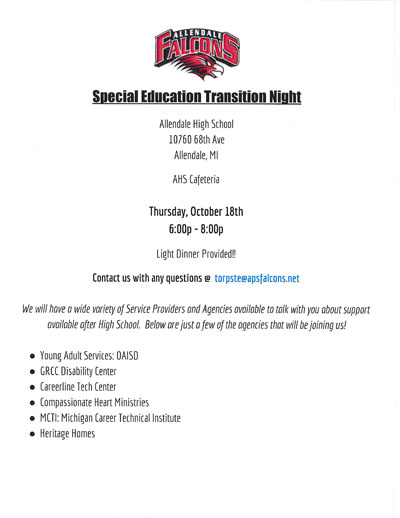 September 17, 2018
Sex Education Frequently Asked Questions (FAQ)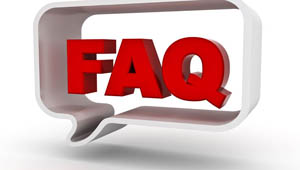 The district has fielded many questions of late regarding the Sex Education (reproductive health) units that are a part of our Health education program. A frequently asked questions (FAQ) document has been created to provide answers to the most often asked questions. You may find that FAQ by following this link

Sex Education FAQ .
THANKS!
September 10, 2018
Youth Basketball League
For Female and Male Students in Grades 3 - 6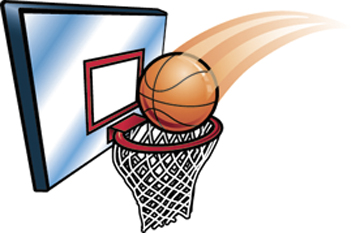 ---
Allendale Public School will be conducting a youth basketball league for female and male students in grades 3 through 6.
Team Selection will be Saturday November 10th in the morning.
Games will be palyed on Saturday mornings, November 17th, December 1st, 8th and 15th.
For more detailed information and to ensure your student can participate please register your student at AllendaleAthletics.org prior to team selection day.
When questions arise contact Allendale Public School Athletic Director James Hogan at HoganJam@APSFalcons.net or 616-892-5590.