How do I check my voicemail?
Press the VMAIL button below your phone's LCD screen. If this is your first time logging in to Voicemail, please use password 1234, then follow the setup wizard to setup your mailbox. If you have previously logged in to Voicemail successfully, please use the four digit password that you created originally. If you do not know your password please contact your building's help desk to get it reset.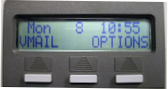 Can I check my voicemail remotely?
Yes, you can check your APS mailbox from anywhere. Please follow these steps:
Call 616.892.5580, once you hear the auto-attendant answer and begin talking, press #.

Enter your mailbox # (your phone extension) then enter your four digit password. You are now logged in to your mailbox.