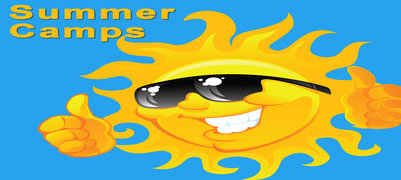 Summer Camp Opportunities
Teen Entrepreneur Summer Academy 2014 GVSU

Click here
U of M Summer camp: Students must be in the 9th or 10th grade at the time of submitting their application. Students must have at least a 3.0 GPA on a 4.0 scale. This program is open to all students with an interest in medicine and health disparities. OHEI particularly encourages applications from students that are from underrepresented minority groups in medicine. Applicants from rural and socio-economically disadvantaged backgrounds are also encouraged to apply.
Program Fees
Full scholarships are awarded to all admitted students who commit by April 15, 2014.

Click here
2014 Summer Engineering Academy

Website
U of M list of summer camps available:

Click here
Ferris State University Summer Camps

Click here
Michigan Tech Summer Youth Program is offering: American Indian Workshop, Explorations In Engineering, Summer Youth Program, and Women in Engineering. Video Clips and additional information are also available on website.

Website
Western Michigan University Summer Aviation Camp This is an aviation education camp for students ages 13-17. Applications due by May 23.

Website
The American Legion, Department of Michigan Boys State Program is available to high school juniors who have an interest in our government system or who desire to become an active leader in their community.

Website
American Legion Auxiliary: Girls State: Where can a teenage girl go to spend a week, make 400 new friends, learn about our great government and maybe even come home as a Governor? Girls State is the answer! Where can you learn the political process by simulated hands-on experience? That would be Girls State! What? You've never heard of Girls State?

Website
The Junior Statesmen Summer School is an exciting opportunity for student leaders. Located on the campuses of Georgetown, Princeton, Yale, Stanford and Northwestern, this unique program includes three core components: A Rigorous Curriculum, Student Debates, and Exciting Speakers Programs. For more information call 800-334-5353, e-mailjsa@jsa.org.

Website
Ferris State University Summer Academic Camps are an awesome way to check out university life, explore your interests, get a head start on your college choices, or just hang out and meet new friends. For more information, call 800-562-9130 or 231-591-5819.

Website
Blue Lake Fine Arts Camp: Blue Lake Fine Arts Camp, nestled in the beautiful Manistee National Forest in Michigan's western lower peninsula, is a summer music camp with art, dance, and theater programs for talented young people, who come from all parts of the country and all walks of life.

Website
Interlochen Summer Programs: Interlochen Arts Camp is located in Michigan, on a 1,200 acre wooded campus, which includes 120 cabins, three cafeterias and two glacial lakes with recreational frontage. The beautiful resort town of Traverse City is 16 miles northeast of Interlochen.

Website
Camp Weave-a-Hope: This camp is an excellent opportunity for families to meet others who have also lost a loved one. The staff of specially trained counselors, art therapists, and volunteers will help campers address the complex feelings and concerns that both adults and children often face after a loved-one dies. Free-time activities include swimming, kayaking, yoga, and more. It takes place at Sherman Lake YMCA Outdoor Center. For more information, contact Patrice Cox at 888-821-3256 ext. 3569

Website
MASC/MAHS Summer Leadership Camp: This is a summer camp focused on communication skills, orgnization and managerial skills, service, citizenship, group process, and goal setting. Scholarships are available. For more information on this camp and scholarships you can call 517-327-5315

Website
Calvin College Entrada Scholars Program: This is an opportunity to earn college credit and experience college learning. It is intended for ethnic and racial minority groups. Entrada scholars participate in regular summer-term classes with current Calvin students and spend four weeks experiencing college life firsthand. Deadline for application is March 5, 2014.

Website
CMU Leadership Camp: This is a 3-day program for incoming CMU students, Seniors and select Juniors, who are considering CMU in their future. Leadership Camp is facilitated by some of the most diverse and outstanding student leaders at CMU. In addition to gaining knowledge and skills that will advance you as a leader on CMU's campus, you will begin establishing connections with other students and the university even before you've graduated from high school.

Website
Alma College High School Leadership Academy: Interested in a career in health? What does "health" mean to you? How does the U.S. population compare globally in health outcomes? You'll examine these questions and more during Alma College's 2014 High School Leadership Academy.

Website
CMU Department of Journalism Digital Discovery: Digital Discovery welcomes a select group of high school junior and senior students to apply for a weekend of learning and networking by writing, shooting photos and videos, producing web content, using social media, and more. Those selected will be eligible to compete for a $2000-a-year scholarship to major in journalism at CMU.

Website
2014 Aquinas Summer Academy: Academic Enrichment Programs- Public Speaking & Presentation Skills (June 16-20). Adventurous Accounting & Exciting Economics (June 18-19). War and Peace in the 20th Century (June 18-19). Writing for College Workshop (June 19). Essential Concepts & Careers in Health Sciences (June 23-24). Observational Drawing (June 23-24).

Website