DISTRICT NEWS
Subscribe to District News - Archives

Back to News
February 8, 2019
From Our Music Boosters:
The difficult decision has been made to postpone "A Family Valentine" dinner/dance event, scheduled for today, Friday, February 8. The consecutive snow days has prevented our Jazz Band from properly preparing for this event. We are working on rescheduling the event in the near future. We apologize for any disappointment this has caused but look forward to seeing you at the "Spring Swing Dance" event soon to be announced.
Thank you!
Carlene Coone
Allendale Music Boosters
January 9, 2019
Preschool Open House and Registration for the 2019-2020 School Year
PLEASE NOTE - DUE TO THE EXTREME WEATHER CONDITIONS, THE PRESCHOOL OPEN HOUSE HAS BEEN RESCHEDULED TO MONDAY, FEBRUARY 4, 2019, FROM 5:30 PM - 6:30 PM, IN THE PRESCHOOL CLASSROOMS AT EVERGREEN ELEMENTARY.
PRESCHOOL REGISTRATION NIGHT FOR ALL PRESCHOOL PROGRAMS HAS BEEN RESCHEDULED TO MONDAY, FEBRUARY 11, 2019, FROM 5:30 PM - 6:30 PM AT DISTRICT OFFICE.
Join us for our rescheduled Preschool Open House, Monday, February 4, from 5:30 PM - 6:30 PM to see what exciting opportunities and program options we offer for your preschooler (age 3-5). Check out our current facilities, meet with teachers, learn about our curriculum and scholarships that are offered. You will also receive information abou our new Early Childhood Center (open Fall 2019). We look forward to seeing you there - parents and children are welcome!
Preschool Registration for the 2019-2020 school year will begin on Monday evening, February 11, from 5:30 PM - 6:30 PM in the District Office for all preschool programs. Registration forms will be available at the Preschool Open House or can be obtained from the District Office. If you have questions, please call 892-5582.
December 21, 2018
Holiday Giving Project - Making a Difference for Others
The Oakwood student body, led by their student council, decided they would participate in a holiday giving project. After considering a number of organizations, the student council decided to support the Helen DeVos Children's Hospital. For the past several days, students have been bringing in their loose change and donating to our fundraiser. In fact, on our 50 cent challenge day, Oakwood raised over $500 on that day alone! In total, $1712.64 was given. Our students' generosity left us speechless! All the money that is raised will go toward the Children's Hospital. We are so proud of our students as they are taking tangible steps to make a difference for others!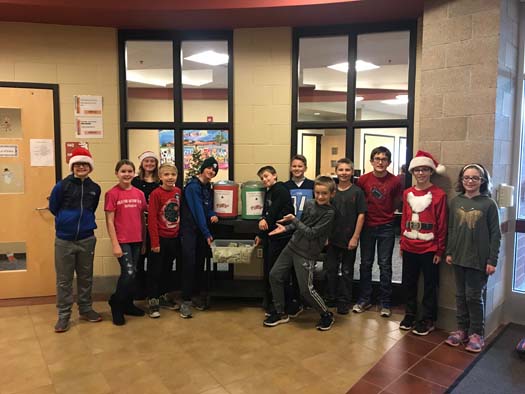 December 17, 2018
HexaSonics Compete in State Championship Event at Kellogg Arena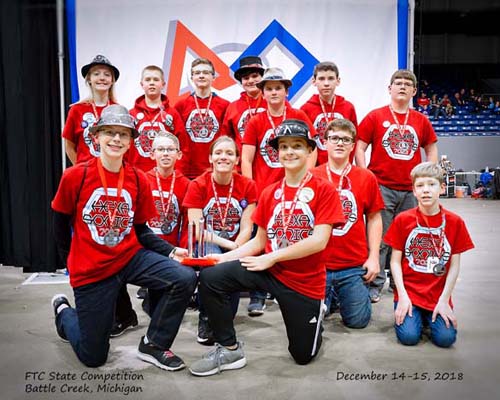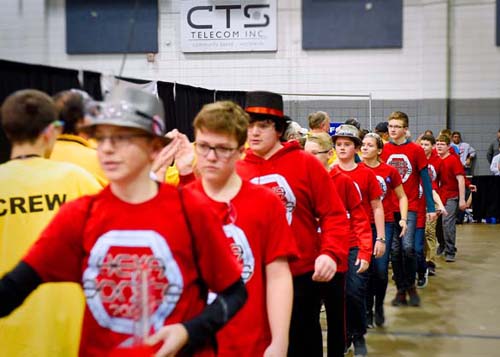 Over the weekend, Dec. 14-15, the HexaSonics (FTC Team 7023), our Middle School Robotics Team, competed with 96 teams at the FIRST in Michigan State Championship Event held at the Kellogg Arena in Battle Creek.
At the Event, the HexaSonics were in the Franklin Division where they completed qualification matches with a 4-2 Record and placed 16th.
In the Alliance Selections, the top ranked Team 8646 (KAOS from Howell), selected the HexaSonics onto their Alliance along with Team 9819 (RoboRats from Algonac). Their Alliance went on to become the Franklin Division Champions. In the matches for the State Championship the Alliance lost, making them the State Finalists.
The HexaSonics have advanced to the FIRST Championship East to be held in Detroit, MI on April 24-27, 2019.
The HexaSonics are part of the Allendale Robotics Organization which has FIRST Robotics Teams with students from K-12th Grade. The Allendale Robotics teams have students from Allendale, Coopersville, Jenison, Hudsonville, Homeschool, and more. For more information please visit www.allendalerobotics.com.
Allendale Robotis would like to thank all of their sponsors, coaches, volunteers, families, and the Allendale Public Schools for the support of their organization.
December 12, 2018
FIRST Lego League teams attend State Championship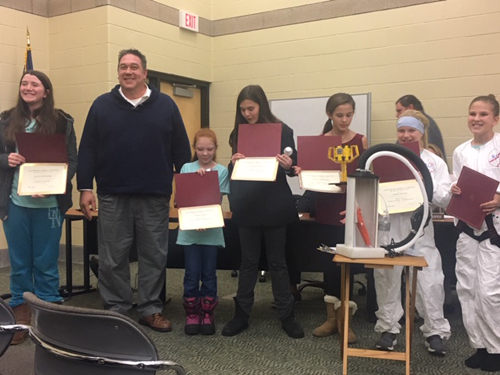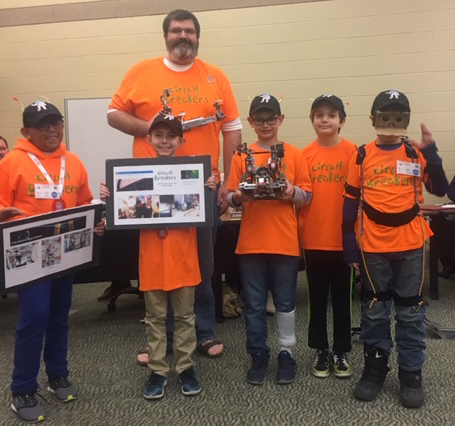 Over the past weekend, two Allendale Robotics teams from the FIRST Lego League, Circuit Breakers and Snickerdoodledoo Seahorses, competed at the State Championship I event in Mason. The teams advanced from the LEGO Mania Qualifier event held in Allendale on Nov. 17th.
At the State Championship, the teams competed against 56 teams with robot performance matches and judged presentations on their Project, Robot Technical, and Core Values (Teamwork).
At the Event, the Circuit Breakers robot performance ranked 9th out of the 56 teams.
The Snickerdoodledoo Seahorses, an all-girls team, was awarded the 1st Place Core Values Award for Inspiration.
Along with the teams accomplishments, the student coach, Celeste Haywood, on the Snickerdoodledoo Seahorses, also a High School TriSonics Member, was presented the Student Mentor Award after being nominated by her team.
Both teams presented at the APS Board of Education meeting on Monday, December 10. The Snickerdoodledoo Seahorses along with Celeste Haywood were given certifcates of acheivement by school board President, Christopher Breen.
Congratulations to all of the Allendale Robotics teams this season. Special thanks also go to all of the coaches and volunteers that help make these teams possible.
For more information on Allendale Robotics, please visit www.allendalerobotics.com.
December 11, 2018
Patricia Polacco Shares Inspiring Message with Students
On Friday, December 7, our students and teachers in grades 2-5 had the privilege of meeting with a nationally known author, Patricia Polacco. Ms. Polacco is the author and illustrator of over 120 children's books and she shared an inspiring message of the potential we all have to do great things in the world. The students spent time earlier in the week reading many of her books, watching videos and interviews with her online and then finished the week with her visiting and sharing a presentation in the Ceglarek Fine Arts Center. The students and teachers all agreed that it was a great experience.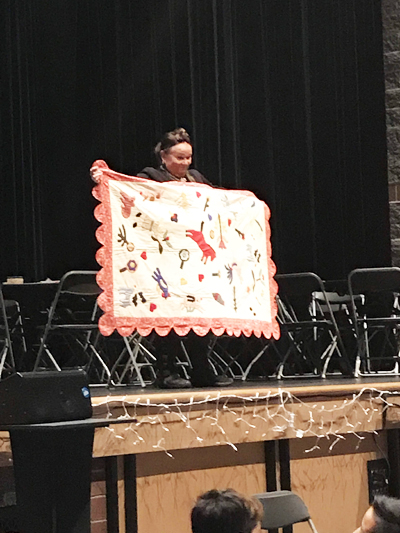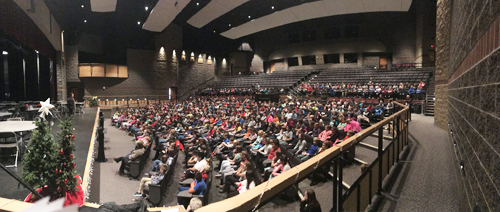 December 5, 2018
Five Allendale High School students selected for State Honors Choir
On December 1st, five Allendale High School choir students sang in the Michigan School Vocal Music Association Region A Honors Choir at Flushing High School. That same day, those five students auditioned for State Honors Choir. All five students received top scores, and were accepted on the basis of their auditions into State Honors Choir. They will perform on January 26th at 3:00 p.m. in DeVos Hall. Pictured from left to right: Emily Hoekstra (12), Allison Judge (9), Brandon VanWyk (9), Emelia Grate (12), Lily MacOwan (12)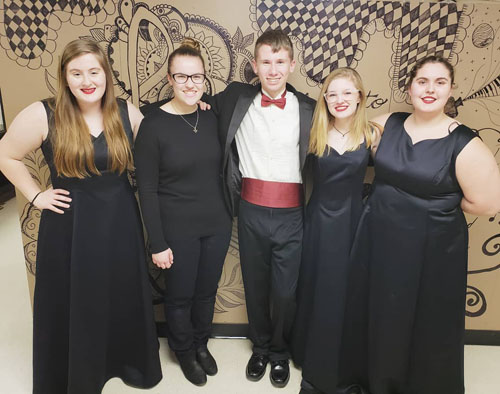 November 14, 2018
Barnes & Noble Bookfair
Sales continue for our Barnes & Noble Bookfair online by using our Bookfair ID at checkout - #12459418 through Thursday, November 29, 2018 at www.barnesandnoble.com. Please support our Falcons!
Come join us at Barnes & Noble at Rivertown Crossings Mall on Saturday, November 24, where we will be hosting a Bookfair. There will be story times, book talks, coloring, music, and free gift wrapping. All purchases that day by anyone using our code - #12459418 - or at least mentioning Allendale - will result in us earning up to 15% of all sales to use to buy materials for classrooms. This includes any food or drinks purchased in the cafe.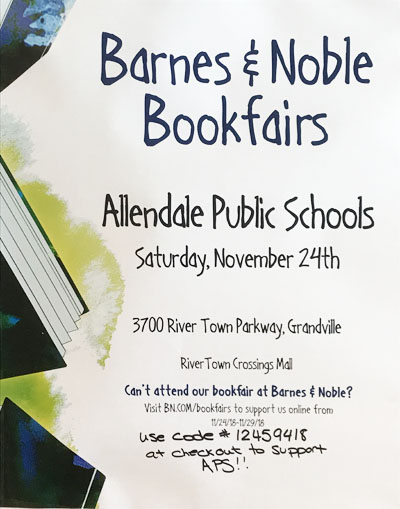 November 5, 2018
Homeless / Hunger Awareness Week is November 12-16