GRANT INFORMATION
14 Allendale Teachers Earn Grants Dollars To Enhance classroom Teaching and learning
Congratulations to the APS Fall 2018 Mini Grant Winners! The APS Foundation acknowledged the valuable contributions of the following APS staff who were recipients of these awards. Please congratulate them and thank them for their dedication to APS students.
Mrs. Karen Wit, Oakwood – 5th grade STEM science
Mrs. Lindsay Daly, High School – Voice of American literature book clubs
Mrs. Cathy Culp, High School – New camera to support yearbook
Mrs. Lynne Burns, Middle School – Supporting literacy display racks and contact paper
Mrs. Tricia Hallack, Elementary/Great Start Readiness Preschool – Math manipulatives
Mrs. Tracie Sult, High School – Spanish 4 students bilingual puppet show for elementary students
Mrs. Richelle Rybiniski, Elementary – RIME Magic: Phonics-powered prevention and intervention
Mrs. Lindsey Davies, Middle School – Diversity in literature
Mr. Mark Foley, High School – Hamlet ESL/differentiated instruction support
Mrs. Kayla Lindeman, Oakwood – Fiber arts exploration – weaving
Mrs. Meredith Bauder, Elementary – Reading comprehension game set for 2nd grade
Mr. Adam Wurst, Middle School – Music assessment recording
Mr. Mike Sispera, High School – Communication and media production
Mr. Ron Silveira, High School – Bioengineering with gel electrophoresis, transformation and biofuels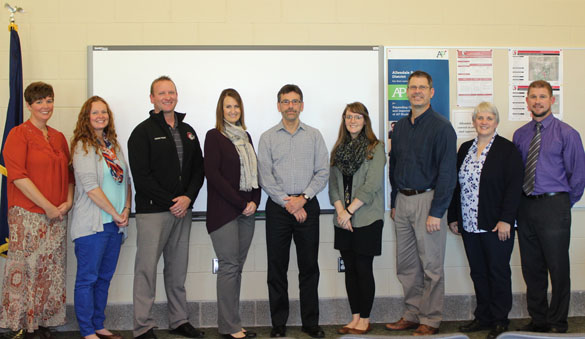 (Pictured above are several of our Fall 2018 mini grant recipients. From left to right, Meredith Bauder, Tricia Hallack, Mark Foley, Lynne Burns, Scott Park (grant committee member), Kayla Lindeman, Adam Wurst, Tracie Sult and Ron Silveira)


Allendale Public School Foundation Grant Information

Grant deadlines are March 1st and October 1st of each year. All completed grant application materials should be emailed to:
Allendale Public School Foundation Grants

Grant Instructions & Questions

Grant Application Cover Sheet

Grant Project Budget Form
Allendale Public School Foundation Teacher Mini-Grants

Teacher Mini-Grant Directions

Teacher Mini-Grant Application Form
About the Allendale Public School Foundation

The Allendale Public School Foundation offers an opportunity for people passionate about education and our community's children to come forward and make a real difference right now and for years to come. Please consider the Foundation and its mission in your charitable giving and financial planning.
The Allendale Public School Foundation is overseen by a Fund Advisory Committee of up to nine members including the Business Manager, one building administrator, one member of the Board of Education and parent and community representatives. Committee members serve a term of at least 3 years.