GRANT INFORMATION
Allendale Public School Foundation Grant Information

Grant deadlines are March 15th and October 1st of each year. All completed grant application materials should be emailed to:
Allendale Public School Foundation Grants

Grant Instructions & Questions

Grant Application Cover Sheet

Grant Project Budget Form
Allendale Public School Foundation Teacher Mini-Grants

Teacher Mini-Grant Directions

Teacher Mini-Grant Application Form
13 Allendale Teachers Earn Grants Dollars To Enhance classroom Teaching and learning
Congratulations to the APS Spring 2019 Mini Grant Winners! The APS Foundation acknowledged the valuable contributions of the following APS staff who were recipients of these awards. Please congratulate them and thank them for their dedication to APS students.
Mrs. Karen Wit & Mrs. Heather Hoffman, Oakwood – Soft start morning work ideas
Mrs. Sandy Marsman, Oakwood – 5th grade inclusive tools
Ms. Ashley Thompson, Elementary – Reading materials & games
Mrs. Laura Lutke, Elementary - Art & building activities
Mr. Chad Meyer, High School – 3-D Printer
Ms. Amanda Mitchell, Elementary – Cirriculum literacy extension
Mr. Mark Foley, High School – Books for choice reading for English 11
Mrs. Vicki Apel, Middle School – Tournament of Books
Ms. Hanna Rose, Elementary – STEM Lego Project
Mrs. Erin Voss, Elementary – STEM material
Ms. Abbie Diemer, Elementary – Books for language therapy
Ms. Anna Haveman, Oakwood – Worm composting
Mrs. Rhonda Wilson, Middle School – Parent resource library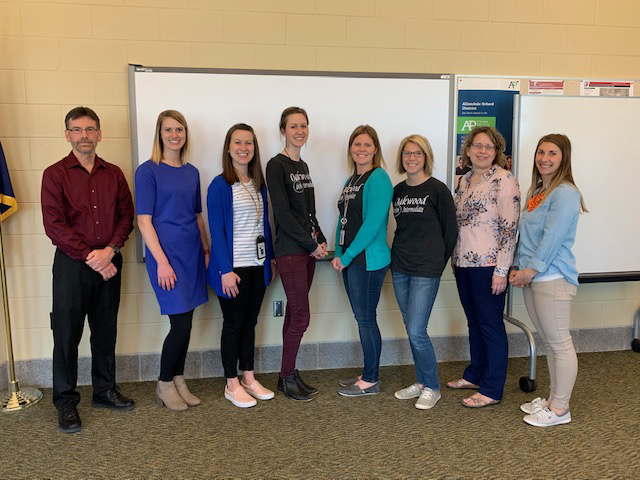 Pictured above are several of our Spring 2019 mini grant recipients. From left to right, Scott Park (grant committee member), Abbie Diemer, Amanda Mitchell, Anna Haveman, Heather Hoffman, Sandy Marsman, Vicki Apel and Laura Lutke.


About the Allendale Public School Foundation

The Allendale Public School Foundation offers an opportunity for people passionate about education and our community's children to come forward and make a real difference right now and for years to come. Please consider the Foundation and its mission in your charitable giving and financial planning.
The Allendale Public School Foundation is overseen by a Fund Advisory Committee of up to nine members including the Business Manager, one building administrator, one member of the Board of Education and parent and community representatives. Committee members serve a term of at least 3 years.