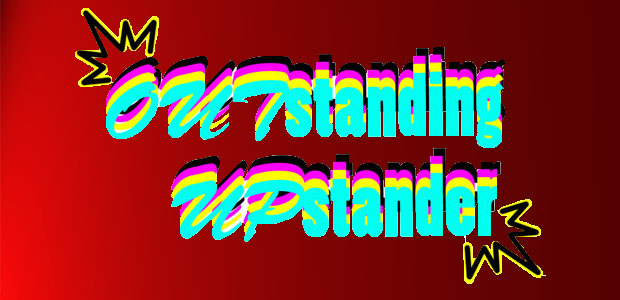 Outstanding Upstander
Naomi Mesman
January 2016
Naomi is kind and thoughtful everyday. She works hard in class, is respectful and models great behavior and work ethic for her classmates. Her willingness to help students who are struggling is very impressive. Naomi reaches out to students who have questions or who have difficulty in class and kindly helps them with the work or class procedures, and gives them positive feedback. She always has a kind word for her classmates and does all she can to encourage them and make them feel better about their work. She is a pleasure to have in class.
---
Joe Emmert
October 2015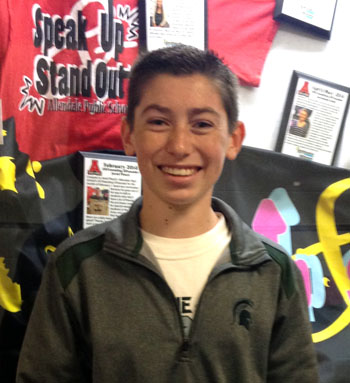 Joe is an inherently kind, selfless person, who consistently looks out for others. Joe goes out of his way in class to help out others without being asked and also makes sure that all students are included in a group setting. He recognizes when other students need help and takes the initiative to do something. He is an outstanding student who is always focused, motivated and hardworking. Having a student like Joe changes the classroom and school environment in a positive way. Not only is Joe a role model for his peers, he is also a support system for many and his friendliness is beyond admirable.
---
Carah Campione
April 2015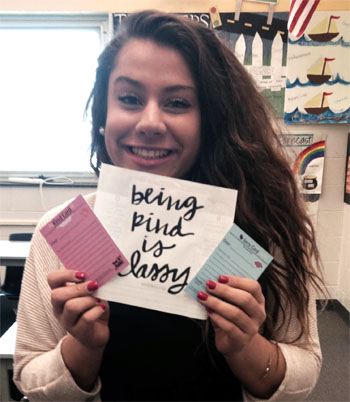 Ever since Carah has been at AHS, she has been kind and thoughtful of ALL students. She is respectful to all and advocates for others constantly. She is a model citizen who looks for ways to better her school and community. Carah has been an integral and active member of Speakup Standout for three years. She is currently putting together a volunteering program for students to volunteer at homeless shelters, women's shelters and with the children's hospital. In addition, Carah consistently stands up for others in person and through social media. She encompasses all that we stand for at Allendale High School. Being kind is classy:)

---
Becca Longo
January 2015
Becca was nominated because she consistently has a positive attitude in and out of the classroom. She is an A student who is there for her fellow students each and every day. Her attention to detail, positive contributions to class, and her bright personality make her classes and day better for everyone.

---
Nathan Timmer
November 2014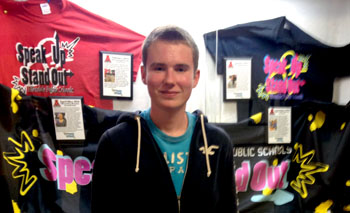 Nate "Speaks up and Stands out" here at AHS by being an all around nice guy! Nate is not judgmental. He respects people's differences and treats everyone equally and always with respect. Nate is also very generous with his time and talents. Even though he has a very busy and demanding schedule that includes AP and dual enrollment classes, he gives of the little free time he has to tutor other students. When one of the exchange students was struggling, Nate stepped up and offered to meet with the student regularly to help him adjust to life here at AHS. He is an outstanding role model for other students and adults here at Allendale High School. Nate is an extremely kind, caring young man. He has a warm, friendly smile and greets everyone with it. He is always willing to help out and work hard. He is a shining example of what a young man should be!
---
Joe Secord
September 2014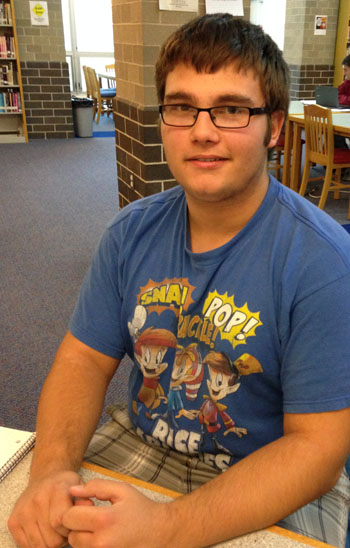 Joe treats others with respect and is always accepting of other students. Over the last 3 years Joe has grown into a very caring and compassionate young adult. Joe is quiet in most large class situations so many students do not know what a great guy he is. He is planning on being a teacher when he graduates from college and this is going to be a great career choice because he helps out any student who approaches him with a problem---it doesn't matter who it is either, all people seem to be equal in Joe's eyes. This openness and "come-as-you-are" attitude toward other students is what makes Joe an OUTstanding UPstander.
---
Savannah Bont
April/May 2014
Savannah is "one of a kind;" she is her own person and a leader at the high school. She is positive and energetic in everything she participates in. She takes a sincere and caring interest in students who need friendship. If she recognizes a new student at lunch, or a student sitting alone for that matter, she will take it upon herself to invite that student to sit with her. She genuinely looks out for the students who are by themselves. Her actions and charitable activities speak for themselves. In addition, Savannah does not judge others, in fact, she has courage and stands up for other students because she is not afraid to speak up. Thank you Savannah for being such an amazing role model of what it means to Speak Up & Stand Out!
---
Jared Pitsch
February 2014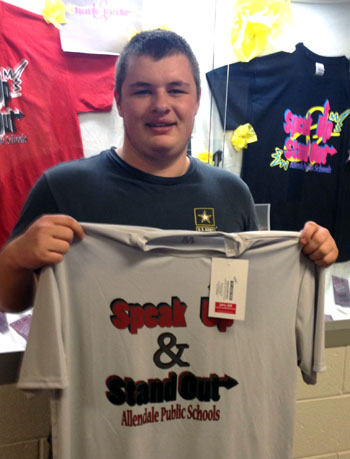 Jared was nominated because he goes out of his way to talk to students who don't have a lot of friends. He purchases cookies for special needs students in the Red Zone, and makes sure that he converses with them on a daily basis. He is truly a "gentle giant!" Thanks Jared for making AHS such a great place!!!
---
Aislinn Droski
January 2014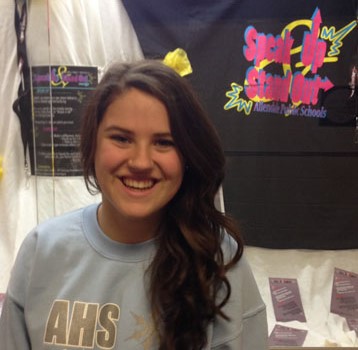 Aislinn is not afraid to be herself and be different from her peers, she is kind to all students stands up for students who are marginalized and voices her opinion when she sees injustice and unfairness. Last year she came to about all of the "Will you stop the hurt" club meetings. She is beyond mature for her age, confident and open minded. She is part of the Speak Up Stand Out club and is someone who WOULD stick up for another person. She knows how to define people who are mean and she would not follow the crowd.
Aislinn was also invited to attend the MASA (Michigan Association of School Administrators) conference with Superintendent Dr. Jonker and Mrs. Harp to present our "Speak Up Stand Out" campaign.