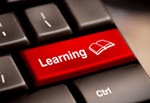 Online Learning
online learning
Allendale Public Schools offers the flexibility of online schooling in multiple formats and platforms.
21F Online Courses
The State School Aid Act Section 21f expands the online learning opportunities for students in grades 5-12. With consent of a parent or guardian, a student may enroll in up to two online learning courses per academic term. Enrollment in online courses cannot result in a course load that exceeds a full time schedule.
If you are interested in pursuing online learning for your student, follow these steps:

1. Explore online learning
Review characteristics of successful online learning. Browse available online courses. Use additional helpful guides when considering online learning.

"The Characteristics of Successful Online Learners"

Michigan's Statewide Online Course Catalog

Parent Guide To Online Learning

Online Learning Readiness Rubric via Michigan Virtual University
2. Assess your readiness for online learning
3. Contact your counselor
Return the above forms to your school's counselor
Schedule a meeting with your school's counselor (see below for contact information)
4. Make the commitment to succeed in online learning
Complete the Online Learning Contract
Check-in with counselors and adminstrators regarding your progress throughout the trimester
APS Seat Time Waiver Program
Our seat time waiver (STW) program allows students to attend school at home via online courses offered by programs such as Michigan Virtual, Aventa Online Learning, K12 Online Learning, and much more. The STW program enrolls new students every fall. If you are interested in this program, please contact a counselor below and review the following STW documents:

APS Seat Time Waiver Contract
APS Counselors and Principals
AHS High School Counselors
Jason Fogel

616-892-5585 x1146

Liz Pellegrom

616-892-5585 x1148
New Options Counselor
Liz Pellegrom 616-892-5585 x1148
Middle School Principal
Travis Plain

616-892-5595
Oakwood Principal