Oakwood Intermediate
Welcome to Oakwood Intermediate
Oakwood News

View Archives
February 4, 2020
Camp Invention: Now Registering
Time to register for Camp Invention, the place to spark imagination through STEM!
Alumni Registration: $35 off using code D35CAMP (expires 2/11/20)
Early Registration: $25 off using promo code D25CAMP (expires 3/31/20)
Click "Register" to find out more.
January 15, 2020
2020 Spelling Bee Winners Advance to Regionals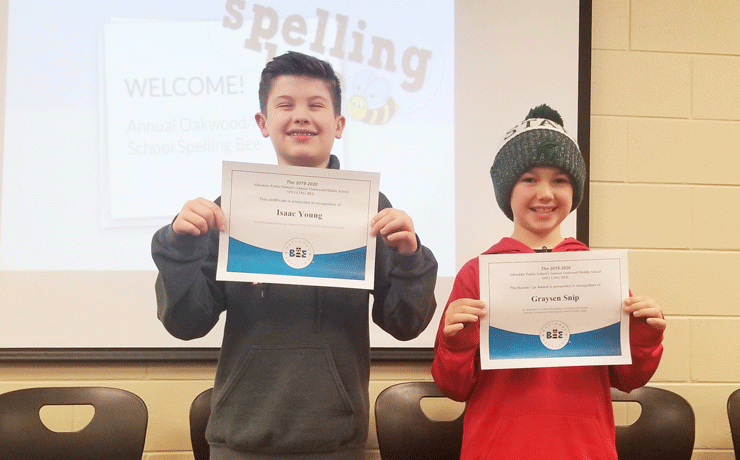 Isaac, left, and Graysen
Congratulations to the top performers in this year's Annual OW/MS Spelling Bee!
November News in Pictures
Volunteers of Oakwood Pack Shoebox Gifts
Youth Sports
Youth Sports at Allendale Public Schools begins at the Middle School level. If you are interested in sports for younger students, please search the web or check with friends and neighbors for programs available in and around the Allendale community. Thank you.
Community Education
Allendale Community Education Program offers many age appropriate youth enrichment classes. Please visit Community Education for more information.
Office Hours
Monday - Friday
8:00 am - 4:00 pm
---
Oakwood daily schedule
Daily Schedule 8:28 AM - 3:21 PM
Half-day Schedule 8:28 AM - 11:52 AM ​