‹

September

2016

›

S
M
T
W
T
F
S
1

Sep 1

7:30 AM to 11:30 AM

Freshmen Orientation

High School

Allendale Public School All Events Calendar

Schedule ID: 190992 Setup / Breakdown: 7:30AM - 11:30AM State: Activated Room(s): - 811 FAC Organization: AHS Contact Person: Day-Time Phone: Cellular Phone: Email: Evening Phone: Fax: FSD Administrator: Gary Torno Phone: Site Administrator: Phone: Required Services: No Services Selected

6:00 PM to 8:00 PM

Rocket Practices

New Middle School

Allendale Public School All Events Calendar

Schedule ID: 191414 Setup / Breakdown: 6:00PM - 8:00PM State: Activated Room(s): - Rocket FB practice field Organization: Rocket Football Contact Person: Day-Time Phone: Cellular Phone: Email: Evening Phone: Fax: FSD Administrator: Gary Torno Phone: Site Administrator: Phone: Required Services: No Services Selected

2
3
4
5

Sep 5

Labor Day

Allendale Public School All Events Calendar

6

Sep 6

1st Day of School

Allendale Public School All Events Calendar

3:45 PM to 6:00 PM

Latchkey

SV/EG Elementary

Allendale Public School All Events Calendar

Schedule ID: 191185 Setup / Breakdown: 3:45PM - 6:00PM State: Activated Room(s): - Evergreen | E128 (CAFE) - Evergreen | E303 (Gym) Organization: AES Contact Person: Day-Time Phone: Cellular Phone: Email: Evening Phone: Fax: FSD Administrator: Gary Torno Phone: Site Administrator: Phone: Required Services: No Services Selected

4:00 PM to 5:00 PM

JV-V B Soccer game at MS

MS

Allendale Public School All Events Calendar

5:00 PM to 6:00 PM

F-JV-V VB game at HS

HS

Allendale Public School All Events Calendar

6:00 PM to 8:00 PM

Rocket Practices

New Middle School

Allendale Public School All Events Calendar

Schedule ID: 191414 Setup / Breakdown: 6:00PM - 8:00PM State: Activated Room(s): - Rocket FB practice field Organization: Rocket Football Contact Person: Day-Time Phone: Cellular Phone: Email: Evening Phone: Fax: FSD Administrator: Gary Torno Phone: Site Administrator: Phone: Required Services: No Services Selected

6:30 PM to 7:30 PM

Middle School Open House

Allendale Public School All Events Calendar

6:30 PM to 8:00 PM

cub scouts den meeting

SV/EG Elementary

Allendale Public School All Events Calendar

Schedule ID: 191375 Setup / Breakdown: 6:30PM - 8:00PM State: Activated Room(s): - Evergreen | E101(Art) - Evergreen | E128 (CAFE) - Springview | S128 (CAFE) - Evergreen | E147 (Comp Lab) Organization: Cub Scouts Contact Person: michael Morgan Day-Time Phone: 610-6864 Cellular Phone: Email: allendalepack3039@gmail.com Evening Phone: Fax: FSD Administrator: Gary Torno Phone: Site Administrator: Phone: Required Services: No Services Selected

7

Sep 7

10:00 AM to 11:00 AM

New Options Pictures room 105

Allendale Public School All Events Calendar

3:45 PM to 6:00 PM

Latchkey

SV/EG Elementary

Allendale Public School All Events Calendar

Schedule ID: 191185 Setup / Breakdown: 3:45PM - 6:00PM State: Activated Room(s): - Evergreen | E128 (CAFE) - Evergreen | E303 (Gym) Organization: AES Contact Person: Day-Time Phone: Cellular Phone: Email: Evening Phone: Fax: FSD Administrator: Gary Torno Phone: Site Administrator: Phone: Required Services: No Services Selected

6:00 PM to 7:00 PM

HS Parent Meeting FAC

Allendale Public School All Events Calendar

6:00 PM to 8:00 PM

Rocket Practices

New Middle School

Allendale Public School All Events Calendar

Schedule ID: 191414 Setup / Breakdown: 6:00PM - 8:00PM State: Activated Room(s): - Rocket FB practice field Organization: Rocket Football Contact Person: Day-Time Phone: Cellular Phone: Email: Evening Phone: Fax: FSD Administrator: Gary Torno Phone: Site Administrator: Phone: Required Services: No Services Selected

6:30 PM to 8:00 PM

HS Open House

High School

Allendale Public School All Events Calendar

Schedule ID: 191245 Setup / Breakdown: 6:30PM - 8:00PM State: Activated Room(s): - 600-Cafeteria Organization: AHS Contact Person: Day-Time Phone: Cellular Phone: Email: Evening Phone: Fax: FSD Administrator: Gary Torno Phone: Site Administrator: Phone: Required Services: No Services Selected

6:30 PM to 8:00 PM

New Options Open House

High School

Allendale Public School All Events Calendar

Schedule ID: 190990 Setup / Breakdown: 6:30PM - 8:00PM State: Activated Room(s): - 105 Round room Organization: New Options Contact Person: Day-Time Phone: Cellular Phone: Email: aaa Evening Phone: Fax: FSD Administrator: Gary Torno Phone: Site Administrator: Phone: Required Services: No Services Selected

8

Sep 8

3:45 PM to 6:00 PM

Latchkey

SV/EG Elementary

Allendale Public School All Events Calendar

Schedule ID: 191185 Setup / Breakdown: 3:45PM - 6:00PM State: Activated Room(s): - Evergreen | E128 (CAFE) - Evergreen | E303 (Gym) Organization: AES Contact Person: Day-Time Phone: Cellular Phone: Email: Evening Phone: Fax: FSD Administrator: Gary Torno Phone: Site Administrator: Phone: Required Services: No Services Selected

6:00 PM to 7:00 PM

3s & 4s Wee Ones Preschool Parent Orientation

Allendale Public School All Events Calendar

6:00 PM to 8:00 PM

Rocket Practices

New Middle School

Allendale Public School All Events Calendar

Schedule ID: 191414 Setup / Breakdown: 6:00PM - 8:00PM State: Activated Room(s): - Rocket FB practice field Organization: Rocket Football Contact Person: Day-Time Phone: Cellular Phone: Email: Evening Phone: Fax: FSD Administrator: Gary Torno Phone: Site Administrator: Phone: Required Services: No Services Selected

9

Sep 9

3:45 PM to 6:00 PM

Latchkey

SV/EG Elementary

Allendale Public School All Events Calendar

Schedule ID: 191185 Setup / Breakdown: 3:45PM - 6:00PM State: Activated Room(s): - Evergreen | E128 (CAFE) - Evergreen | E303 (Gym) Organization: AES Contact Person: Day-Time Phone: Cellular Phone: Email: Evening Phone: Fax: FSD Administrator: Gary Torno Phone: Site Administrator: Phone: Required Services: No Services Selected

7:00 PM to 8:00 PM

V Football game vs GR Catholic

Allendale Public School All Events Calendar

10

Sep 10

9:00 AM to 10:00 AM

JV VB Falcon Invitational MS & HS

Allendale Public School All Events Calendar

11
12

Sep 12

9:30 AM to 10:30 AM

Wee Ones Preschool Open House

Allendale Public School All Events Calendar

3:45 PM to 6:00 PM

Latchkey

SV/EG Elementary

Allendale Public School All Events Calendar

Schedule ID: 191185 Setup / Breakdown: 3:45PM - 6:00PM State: Activated Room(s): - Evergreen | E128 (CAFE) - Evergreen | E303 (Gym) Organization: AES Contact Person: Day-Time Phone: Cellular Phone: Email: Evening Phone: Fax: FSD Administrator: Gary Torno Phone: Site Administrator: Phone: Required Services: No Services Selected

4:30 PM to 5:30 PM

MS B soccer vs Newhall Black

Allendale Public School All Events Calendar

5:30 PM to 9:30 PM

Civic Auditions

High School

Allendale Public School All Events Calendar

Schedule ID: 191394 Setup / Breakdown: 5:30PM - 9:30PM State: Activated Room(s): - 811 FAC Organization: Allendale Civic Theatre Contact Person: Day-Time Phone: Cellular Phone: Email: Evening Phone: Fax: FSD Administrator: Gary Torno Phone: Site Administrator: Phone: Required Services: No Services Selected

6:00 PM to 7:30 PM

5-6th grade clinic - Audra

High School

Allendale Public School All Events Calendar

Schedule ID: 191362 Setup / Breakdown: 6:00PM - 7:30PM State: Activated Room(s): - 900 gym 1 - 900 gym 2 - 900 gym 3 Organization: Athletics Contact Person: Day-Time Phone: Cellular Phone: Email: Evening Phone: Fax: FSD Administrator: Gary Torno Phone: Site Administrator: Phone: Required Services: No Services Selected

6:00 PM to 8:30 PM

boy scouts troop 39

Oakwood

Allendale Public School All Events Calendar

Schedule ID: 191381 Setup / Breakdown: 6:00PM - 8:30PM State: Activated Room(s): - 312 Cafe Organization: Boy Scouts - Contact Person: Steve McMaster Day-Time Phone: Cellular Phone: Email: troop39chair@gmail.com Evening Phone: Fax: FSD Administrator: Gary Torno Phone: Site Administrator: Phone: Required Services: No Services Selected

6:00 PM to 9:00 PM

Marching Band rehearsals

High School

Allendale Public School All Events Calendar

Schedule ID: 190897 Setup / Breakdown: 6:00PM - 9:00PM State: Activated Room(s): - 801 Band room Organization: AHS Contact Person: tony bush Day-Time Phone: Cellular Phone: Email: Evening Phone: Fax: FSD Administrator: Gary Torno Phone: Site Administrator: Phone: Required Services: No Services Selected

6:00 PM to 9:00 PM

MS Athletic Booster meeting

New Middle School

Allendale Public School All Events Calendar

Schedule ID: 191101 Setup / Breakdown: 6:00PM - 9:00PM State: Activated Room(s): - 500 Media Center Organization: Athletics Contact Person: maria Day-Time Phone: Cellular Phone: Email: Evening Phone: Fax: FSD Administrator: Gary Torno Phone: Site Administrator: Phone: Required Services: No Services Selected

7:00 PM to 10:00 PM

Board of Education Meeting

Oakwood

Allendale Public School All Events Calendar

Schedule ID: 191392 Setup / Breakdown: 6:00PM - 10:00PM State: Activated Room(s): - 301 Board Meeting/Conference room Organization: APS Contact Person: Kathy Anderson Day-Time Phone: Cellular Phone: Email: andersonkat@allendale.k12.mi.us Evening Phone: Fax: FSD Administrator: Gary Torno Phone: Site Administrator: Phone: Required Services: Event Setup, Sean Coffey, 895-4118

13

Sep 13

9:30 AM to 10:30 AM

Wee Ones Preschool Open House

Allendale Public School All Events Calendar

9:30 AM to 2:30 PM

3s & 4s Wee Ones Preschool Open House

SV/EG Elementary

Allendale Public School All Events Calendar

Schedule ID: 191190 Setup / Breakdown: 9:30AM - 2:30PM State: Activated Room(s): - Evergreen | E107 - Evergreen | E109 Organization: AES Contact Person: cyndie Day-Time Phone: Cellular Phone: Email: gg Evening Phone: Fax: FSD Administrator: Gary Torno Phone: Site Administrator: Phone: Required Services: Event Setup, Monica Cervantes

3:45 PM to 6:00 PM

Latchkey

SV/EG Elementary

Allendale Public School All Events Calendar

Schedule ID: 191185 Setup / Breakdown: 3:45PM - 6:00PM State: Activated Room(s): - Evergreen | E128 (CAFE) - Evergreen | E303 (Gym) Organization: AES Contact Person: Day-Time Phone: Cellular Phone: Email: Evening Phone: Fax: FSD Administrator: Gary Torno Phone: Site Administrator: Phone: Required Services: No Services Selected

5:00 PM to 6:00 PM

F-JV-V V game vs W Catholic

Allendale Public School All Events Calendar

5:30 PM to 9:30 PM

Civic Auditions

High School

Allendale Public School All Events Calendar

Schedule ID: 191394 Setup / Breakdown: 5:30PM - 9:30PM State: Activated Room(s): - 811 FAC Organization: Allendale Civic Theatre Contact Person: Day-Time Phone: Cellular Phone: Email: Evening Phone: Fax: FSD Administrator: Gary Torno Phone: Site Administrator: Phone: Required Services: No Services Selected

6:30 PM to 8:30 PM

Polyhockey

Oakwood

Allendale Public School All Events Calendar

Schedule ID: 191367 Setup / Breakdown: 6:30PM - 8:30PM State: Activated Room(s): - 300 Gym Organization: Special Olympics Contact Person: Day-Time Phone: Cellular Phone: Email: arlenesalik@aol.com Evening Phone: Fax: FSD Administrator: Gary Torno Phone: Site Administrator: Phone: Required Services: No Services Selected

6:30 PM to 8:30 PM

Scout Pack Meeting

SV/EG Elementary

Allendale Public School All Events Calendar

Schedule ID: 191370 Setup / Breakdown: 6:00PM - 8:30PM State: Activated Room(s): - Springview | S128 (CAFE) Organization: Cub Scouts Contact Person: Michael Morgan Day-Time Phone: 6481231 Cellular Phone: Email: allendalepack3039@gmail.com Evening Phone: Fax: FSD Administrator: Gary Torno Phone: Site Administrator: Phone: Required Services: Event Setup, Monica Cervantes

14

Sep 14

5:00 PM to 9:00 PM

7th/8th grade Rocket Football game

High School

Allendale Public School All Events Calendar

Schedule ID: 191412 Setup / Breakdown: 5:00PM - 9:00PM State: Activated Room(s): - V-Football field Organization: Athletics Contact Person: Day-Time Phone: Cellular Phone: Email: Evening Phone: Fax: FSD Administrator: Gary Torno Phone: Site Administrator: Phone: Required Services: Athletic Fields, Barry Powell, 893-4915

7:00 PM to 8:00 PM

Youth Assessment Report Overview /Parent Meeting

High School

Allendale Public School All Events Calendar

Schedule ID: 191091 Setup / Breakdown: 6:00PM - 8:00PM State: Activated Room(s): - 811 FAC Organization: APS Contact Person: carol Day-Time Phone: Cellular Phone: Email: Evening Phone: Fax: FSD Administrator: Gary Torno Phone: Site Administrator: Phone: Required Services: Event Setup, Dan VanFarowe

15

Sep 15

4:30 PM to 5:30 PM

F-JV FB game vs Comstock

Allendale Public School All Events Calendar

16
17
18
19

Sep 19

7pm OW/Elem PTO Meeting

Allendale Public School All Events Calendar

4:00 PM to 5:00 PM

G 8th grade A & B VB game

Allendale Public School All Events Calendar

4:30 PM to 5:30 PM

MS B Soccer vs Newhall Purple

Allendale Public School All Events Calendar

20

Sep 20

4:00 PM to 5:00 PM

District Wellness Committee

Oakwood

Allendale Public School All Events Calendar

Schedule ID: 191405 Setup / Breakdown: 4:00PM - 5:00PM State: Activated Room(s): - 414 District Office Conference room Organization: APS Contact Person: Day-Time Phone: Cellular Phone: Email: Evening Phone: Fax: FSD Administrator: Gary Torno Phone: Site Administrator: Phone: Required Services: No Services Selected

4:00 PM to 5:00 PM

JV-V B Soccer vs Sparta

Allendale Public School All Events Calendar

21

Sep 21

4:00 PM to 5:00 PM

G 7th grade B & A VB game vs Coopersville

Allendale Public School All Events Calendar

7:00 PM to 9:00 PM

Powder Puff game

High School

Allendale Public School All Events Calendar

Schedule ID: 191660 Setup / Breakdown: 7:00PM - 9:00PM State: Activated Room(s): - Outside Track - Baseball field - Softball field - PE 1 - PE 2 - V-Football field - V-Practice field - JV- Practice field - Soccer field - Athletic Parking Lot - 64th Avenue grassy area Organization: AHS Contact Person: Day-Time Phone: Cellular Phone: Email: Evening Phone: Fax: FSD Administrator: Gary Torno Phone: Site Administrator: Phone: Required Services: No Services Selected

22

Sep 22

3:45 PM to 6:00 PM

Latchkey

SV/EG Elementary

Allendale Public School All Events Calendar

Schedule ID: 191185 Setup / Breakdown: 3:45PM - 6:00PM State: Activated Room(s): - Evergreen | E128 (CAFE) - Evergreen | E303 (Gym) Organization: AES Contact Person: Day-Time Phone: Cellular Phone: Email: Evening Phone: Fax: FSD Administrator: Gary Torno Phone: Site Administrator: Phone: Required Services: No Services Selected

4:00 PM to 9:00 PM

Hunters Safety

High School

Allendale Public School All Events Calendar

Schedule ID: 191497 Setup / Breakdown: 4:00PM - 9:00PM State: Activated Room(s): - 105 Round room Organization: Community Education Contact Person: Day-Time Phone: Cellular Phone: Email: Evening Phone: Fax: FSD Administrator: Gary Torno Phone: Site Administrator: Phone: Required Services: No Services Selected

23

Sep 23

7:00 PM to 8:00 PM

V Football game vs Sparta (Homecoming)

Allendale Public School All Events Calendar

24

Sep 24

7:00 AM to 5:00 PM

Hunters Safety

High School

Allendale Public School All Events Calendar

Schedule ID: 191498 Setup / Breakdown: 7:00AM - 5:00PM State: Activated Room(s): - 105 Round room Organization: Community Education Contact Person: Day-Time Phone: Cellular Phone: Email: Evening Phone: Fax: FSD Administrator: Gary Torno Phone: Site Administrator: Phone: Required Services: No Services Selected

8:00 PM to 11:00 PM

Homecoming Dance

High School

Allendale Public School All Events Calendar

Schedule ID: 190738 Setup / Breakdown: 5:00PM - 12:00AM State: Activated Room(s): - 600-Cafeteria Organization: AHS Contact Person: Day-Time Phone: Cellular Phone: Email: Evening Phone: Fax: FSD Administrator: Gary Torno Phone: Site Administrator: Phone: Required Services: Custodial, Kathy Anderson

25
26

Sep 26

4:00 PM to 5:00 PM

G 7th grade A & B VB game vs FH Eastern

Allendale Public School All Events Calendar

4:00 PM to 5:00 PM

Department/Grade Level Chairperson Meeting

Oakwood

Allendale Public School All Events Calendar

Schedule ID: 191401 Setup / Breakdown: 4:00PM - 5:00PM State: Activated Room(s): - 301 Board Meeting/Conference room Organization: APS Contact Person: Dan Day-Time Phone: Cellular Phone: Email: Evening Phone: Fax: FSD Administrator: Gary Torno Phone: Site Administrator: Phone: Required Services: No Services Selected

27

Sep 27

4:00 PM to 5:00 PM

JV-V Soccer vs Spring Lake

Allendale Public School All Events Calendar

5:00 PM to 6:00 PM

F-JV-V VB game vs Sparta

Allendale Public School All Events Calendar

5:00 PM to 7:00 PM

GVSU Club Baseball practice

Middle School

Allendale Public School All Events Calendar

Schedule ID: 191695 Setup / Breakdown: 5:00PM - 7:00PM State: Activated Room(s): - New Middle School Baseball field Organization: GVSU Contact Person: Day-Time Phone: Cellular Phone: Email: Evening Phone: Fax: FSD Administrator: Gary Torno Phone: Site Administrator: Phone: Required Services: No Services Selected

28

Sep 28

4:00 PM to 5:00 PM

G 8th grade B & A VB game vs

Allendale Public School All Events Calendar

4:30 PM to 6:30 PM

MS B Soccer game

New Middle School

Allendale Public School All Events Calendar

Schedule ID: 191354 Setup / Breakdown: 4:30PM - 6:30PM State: Activated Room(s): - New Middle School Soccer Field Organization: Athletics Contact Person: Day-Time Phone: Cellular Phone: Email: Evening Phone: Fax: FSD Administrator: Gary Torno Phone: Site Administrator: Phone: Required Services: No Services Selected

29

Sep 29

3:45 PM to 6:45 PM

Dance Class

SV/EG Elementary

Allendale Public School All Events Calendar

Schedule ID: 191038 Setup / Breakdown: 3:45PM - 6:45PM State: Activated Room(s): - Springview | S301 (Gym) Organization: Community Education Contact Person: Kelly Day-Time Phone: Cellular Phone: Email: Evening Phone: Fax: FSD Administrator: Gary Torno Phone: Site Administrator: Phone: Required Services: No Services Selected

30

Sep 30

7:00 PM to 8:00 PM

V Football vs S Christian

Allendale Public School All Events Calendar
September 22, 2016
Falcons Focus on the Future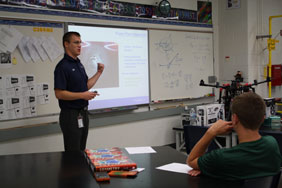 High school is the time to start thinking about careers. So while Allendale High School students were "dressed for success" for Homecoming week, they also participated in career exploration with area business professionals.

The Allendale High School counselors and staff, working in partnership with Junior Achievement, brought 24 career professionals into the high school on Wednesday, September 21.  Students were invited to select three professions they would like to learn more about and then assigned to sessions featuring professionals in their areas of interest.
September 22, 2016
Meet new Elementary Principal Rinard Pugh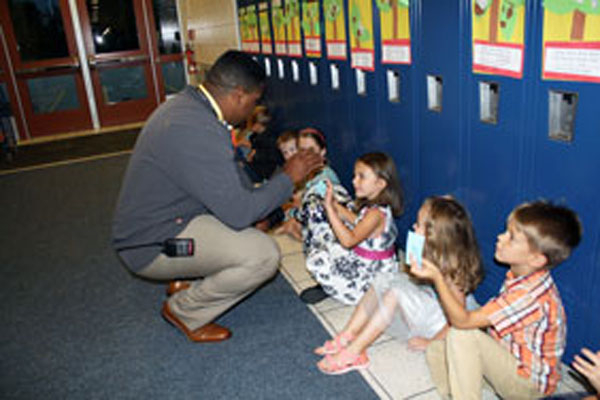 Sweeping through the bus drop-off area and nearby playground, Rinard Pugh encourages students to move inside before it begins to rain. Today students are "Dressed for Success" in celebration of Homecoming Spirit Week and Mr. Pugh is quick to compliment the smartly dressed children filing by him.
"Oh, I like that bowtie!"
"Very creative outfits, good job," he calls to the students.
Inside the halls of Springview and Evergreen Schools, he stops to greet students who are now waiting by their lockers for teachers to take them to class.  Mr. Pugh commends students on their patience and points out the school staff has set a goal of giving out 4000 coupons for good behavior to students during the first semester of school.
September 22, 2016
New Options High School Offering FREE GED Fast Track Course
The GED Fast Track Course is open to anyone between the ages 17-19 who needs to complete his/her high school education. The classes run from October 3 through November 18. There are no home school district restrictions. A certified teacher will assist students in all GED subject areas for three weeks in preparation for the GED online test. 

Contact Kelly Pratt at 616-892-5575 for additional details, or to register for the course.