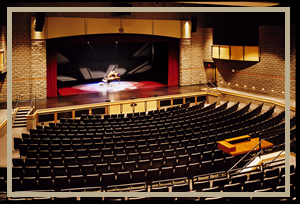 Fine Arts Center
Ceglarek Fine Arts Center
10760 68th Avenue | Allendale, MI 49401 | (616) 892-5593 | Fax (616) 895-4280
Since it opened in 2005, the Ceglarek Fine Arts Center (CFAC) has been home to many wonderful performances. With 789 seats and a spacious stage, the CFAC has the feel of a large auditorium with the intimacy of a small house.

Notice: Events for the remainder of the 2019-2020 school year have been canceled per the Governor's Executive Order 2020-35, effective April 2.
Please check back at a later date for information on upcoming events.
Kathy Anderson
Facilities Coordinator/Auditorium Manager
Phone: 616-892-3482

Send me a message