APS Alumni Hall of Fame
The Allendale Public Schools Alumni Hall of Fame has been established to celebrate the achievements and talents of our distinguished alumni from Allendale Public Schools. The APS Alumni Hall of Fame recognizes individuals who have made exceptional achievements in their field, significant contributions to Allendale Public Schools, and/or unique contributions to their communities on a local, state, national or global level. The selection of these individuals is intended to recognize and encourage a tradition of excellence, achievement, commitment, and dedication.
---
2020 Hall of Fame Awards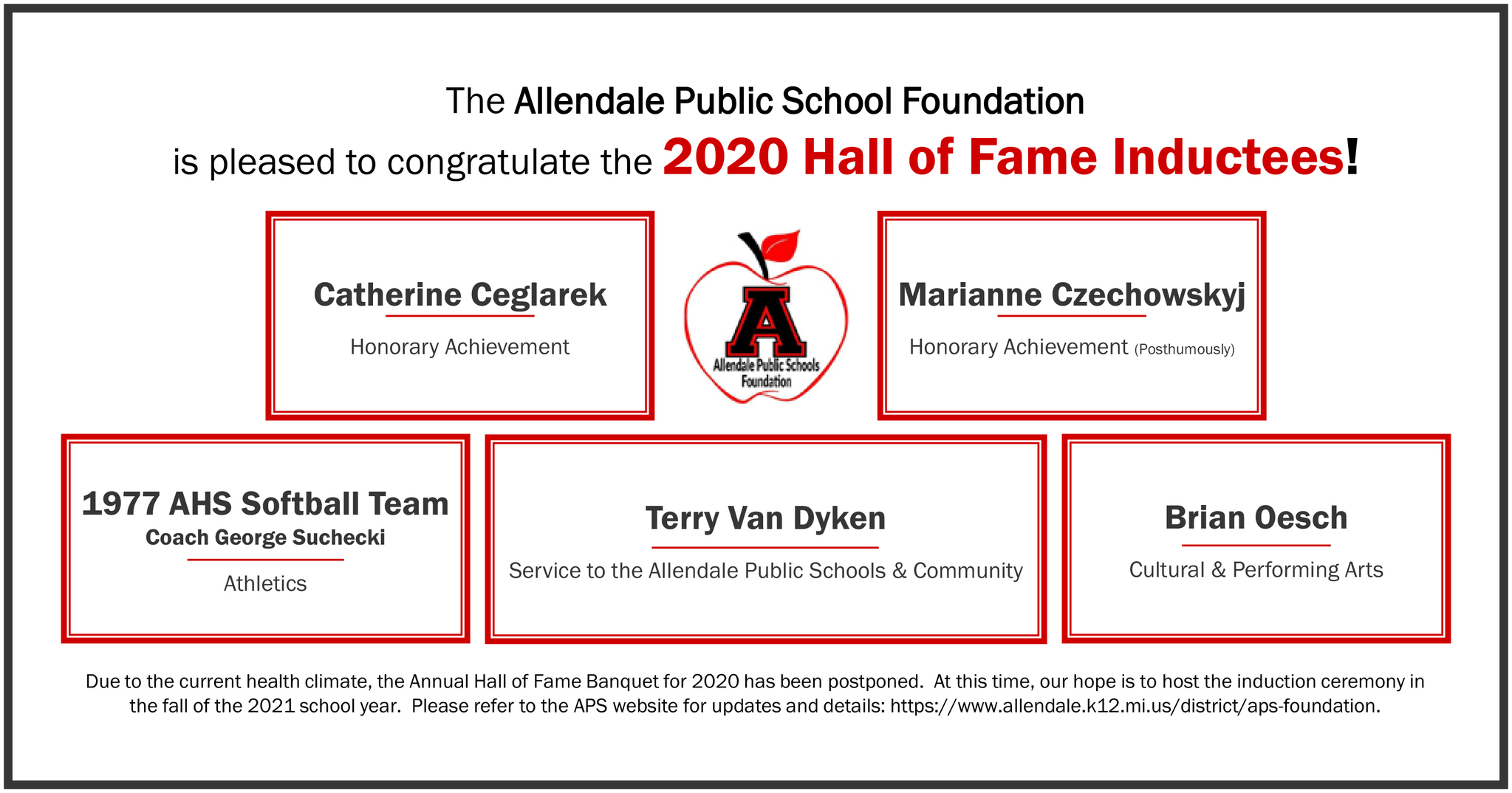 Five Inducted into 2019 APS Hall of Fame
Five individuals were inducted in Allendale Public Schools' Hall of Fame Thursday, November 7, 2019. The annual event drew about 100 people and was hosted by the Allendale Public Schools Foundation at Main Street pub in Allendale.
This year's honorees were:
Jim Crawley, '83 graduate of Calumet High School, Honorary Achievement
Rick Westerling, '85. Service to Allendale Public Schools
Kathy Buist, '78, Cultural/Performing Arts
Ryan Van De Weg,'92, Athletics
Shannon Bancroft-James, '93, Career Accomplishments
"I am so very appreciative of the work that the Allendale Foundation put into creating such a meaningful and memorable event," said Dr. Garth Cooper, Superintendent for Allendale Public Schools.
"Recognizing individuals who have taken their solid foundation in Allendale Schools and used it to excel in a variety of endeavors is amazing to see," Dr. Cooper continued. "Hearing the stories from and about our five most recent inductees highlights the importance of hard-working and strong character.
"We at APS are not only proud of the five individuals chosen for induction into the Allendale Hall of Fame, we are thankful for the legacy of excellence they have contributed to and the standards by which they represent our Allendale community throughout the country and the world!"
APS Foundation President Mark Allen said, "The Allendale Public School Foundation is pleased to recognize this year's Hall of Fame Inductees for their service to our schools and community along with their career accomplishments as Falcon Alumni."
"This year's Hall of Fame event was our largest to date, and we are looking forward to its continued growth, said Allen. Congratulations to all of the inductees!"