CFAC Technical Information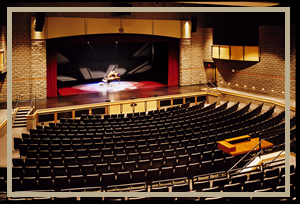 The Ceglarek Fine Arts Center is equipped with 789 seats and a spacious stage. It gives you the feel of a large auditorium with the intimacy of a small house. The sight lines and acoustics are great no matter where you sit.
For technical information on the Ceglarek Fine Arts Center, please view the documents below. If you have additional questions, please contact Kathy Anderson.
Kathy Anderson
Facilities Coordinator/Auditorium Manager
CFAC Upcoming Events
CFAC Upcoming Events

Previous

December

2023

Next

S
M
T
W
T
F
S
1

Dec 1

Location:

Ceglarek Fine Arts Center, 10760 68th Ave, Allendale, MI 49401, USA

Calendar:

Fine Arts Calendar

2

Dec 2

Location:

Ceglarek Fine Arts Center, 10760 68th Ave, Allendale, MI 49401, USA

Calendar:

Fine Arts Calendar

3
4
5

Dec 5

6:30 PM to 7:30 PM

Location:

Ceglarek Fine Arts Center, 10760 68th Ave, Allendale, MI 49401, USA

Calendar:

Fine Arts Calendar

6

Dec 6

8:00 AM to 2:00 PM

Location:

Ceglarek Fine Arts Center, 10760 68th Ave, Allendale, MI 49401, USA

Calendar:

Fine Arts Calendar

7

Dec 7

7:00 PM to 9:00 PM

Location:

Ceglarek Fine Arts Center, 10760 68th Ave, Allendale, MI 49401, USA

Calendar:

Fine Arts Calendar

8
9
10
11
12

Dec 12

7:00 PM to 8:00 PM

Location:

Ceglarek Fine Arts Center, 10760 68th Ave, Allendale, MI 49401, USA

Calendar:

Fine Arts Calendar

13
14

Dec 14

7:00 PM to 8:00 PM

Location:

Ceglarek Fine Arts Center, 10760 68th Ave, Allendale, MI 49401, USA

Calendar:

Fine Arts Calendar

15
16

Dec 16

11:00 AM to 12:00 PM

SWE at Allendale Baptist Church

Calendar:

Fine Arts Calendar

17
18
19
20
21
22
23
24
25

Dec 25

Calendar:

Fine Arts Calendar

26

Dec 26

Calendar:

Fine Arts Calendar

27

Dec 27

Calendar:

Fine Arts Calendar

28

Dec 28

Calendar:

Fine Arts Calendar

29

Dec 29

Calendar:

Fine Arts Calendar

30
31