Covid-19 Daily Update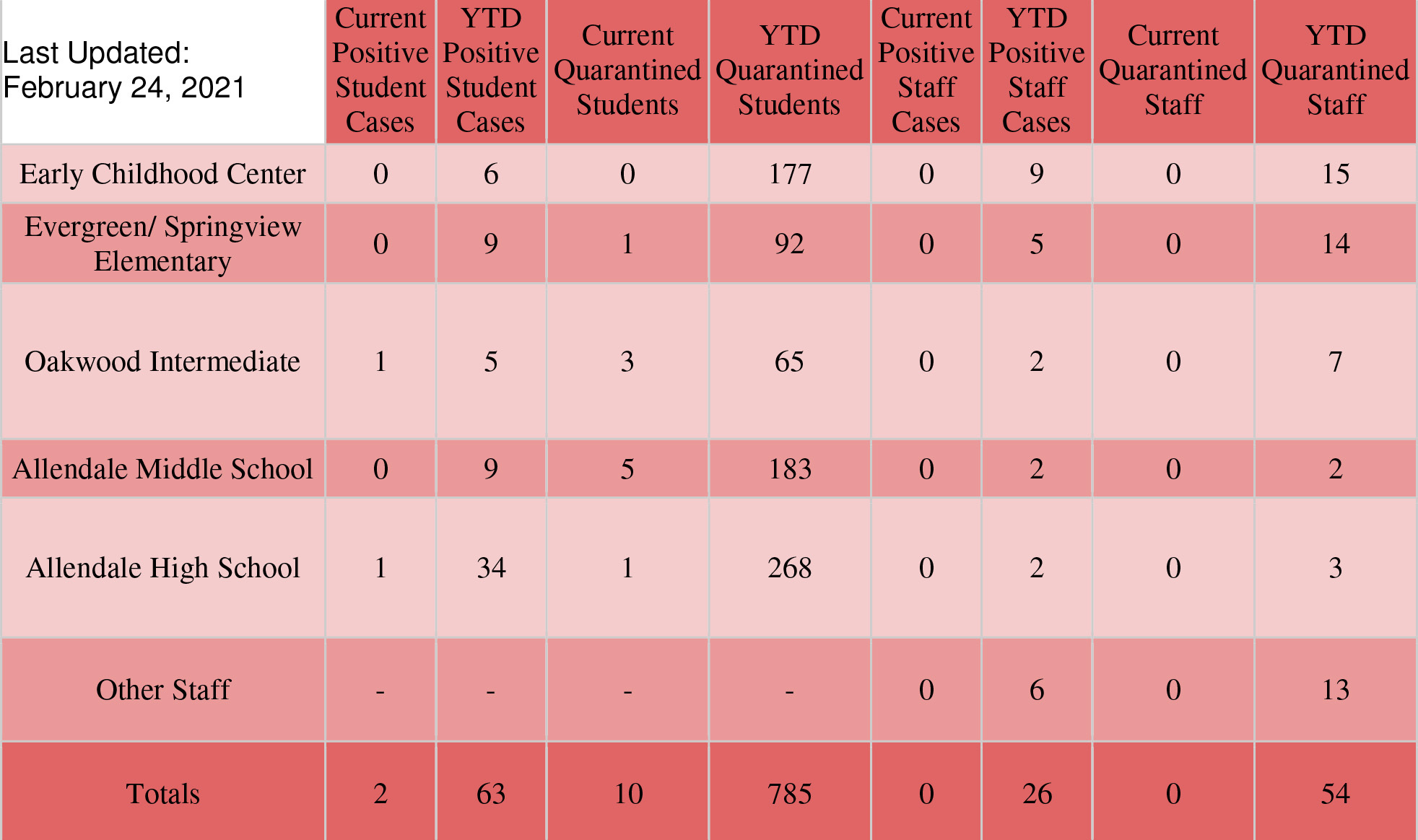 Staff Cases Reported:
October = 4
November = 9
December = 12
January = 1
February = 0 (to date)
Student Cases Reported:
September cases = 2
October cases = 2
November cases = 13
December cases = 23
January cases = 13
February cases = 10 (to date)
Notes:
-Other Staff includes ancillary staff, transportation, district administration, and operations not specifically assigned to a school building.
-APS follows all guidelines issued by the Ottawa County Health Department.
-Quarantined is determined by the Ottawa County Health Department and includes confirmed close contacts only.
-"Close contact" is an individual within 6 feet of a confirmed positive case for a minimum of 15 minutes.
-Close contacts are quarantined and therefore excluded from school for a minimum of 10 days.
-A "Confirmed Positive Case" is an individual who has tested positive for COVID-19.
-Confirmed Positive Cases are excluded from school until released by the Ottawa County Health Department.
-All Quarantined and Confirmed Positive Cases are kept strictly confidential.
APS Return to School Fall 2020 Plan
District Upcoming Events

Science Olympiad Tournament at HS

Location:

Allendale High School, 10760 68th Ave, Allendale, MI 49401, USA

Calendar:

Allendale Public Schools Events Calendar

Board of Ed Meeting

Location:

Oakwood Intermediate, 7267 Pierce St, Allendale, MI 49401, USA

Calendar:

Allendale Public Schools Events Calendar

NHS Induction

Location:

Ceglarek Fine Arts Center, 10760 68th Ave, Allendale, MI 49401, USA

Calendar:

Allendale Public Schools Events Calendar