Welcome to Allendale Public Schools
December 12, 2018
FIRST Lego League teams attend State Championship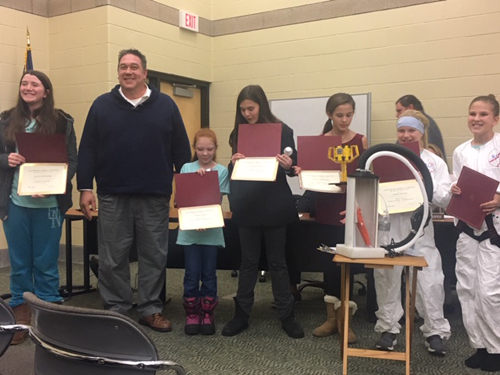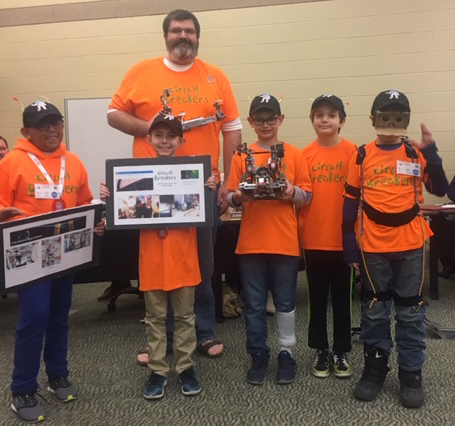 Over the past weekend, two Allendale Robotics teams from the FIRST Lego League, Circuit Breakers and Snickerdoodledoo Seahorses, competed at the State Championship I event in Mason.  The teams advanced from the LEGO Mania Qualifier event held in Allendale on Nov. 17th.
At the State Championship, the teams competed against 56 teams with robot performance matches and judged presentations on their Project, Robot Technical, and Core Values (Teamwork).
At the Event, the Circuit Breakers robot performance ranked 9th out of the 56 teams. 
The Snickerdoodledoo Seahorses, an all-girls team, was awarded the 1st Place Core Values Award for Inspiration.
Along with the teams accomplishments, the student coach, Celeste Haywood, on the Snickerdoodledoo Seahorses, also a High School TriSonics Member, was presented the Student Mentor Award after being nominated by her team.
Both teams presented at the APS Board of Education meeting on Monday, December 10.  The Snickerdoodledoo Seahorses along with Celeste Haywood were given certifcates of acheivement by school board President, Christopher Breen.
Congratulations to all of the Allendale Robotics teams this season.  Special thanks also go to all of the coaches and volunteers that help make these teams possible.
For more information on Allendale Robotics, please visit www.allendalerobotics.com.
December 11, 2018
Patricia Polacco Shares Inspiring Message with Students
On Friday, December 7, our students and teachers in grades 2-5 had the privilege of  meeting with a nationally known author, Patricia Polacco.   Ms. Polacco is the author and illustrator of over 120 children's books and she shared an inspiring message of the potential we all have to do great things in the world.  The students spent time earlier in the week reading many of her books, watching videos and interviews with her online and then finished the week with her visiting and sharing a presentation in the Ceglarek Fine Arts Center.  The students and teachers all agreed that it was a great experience.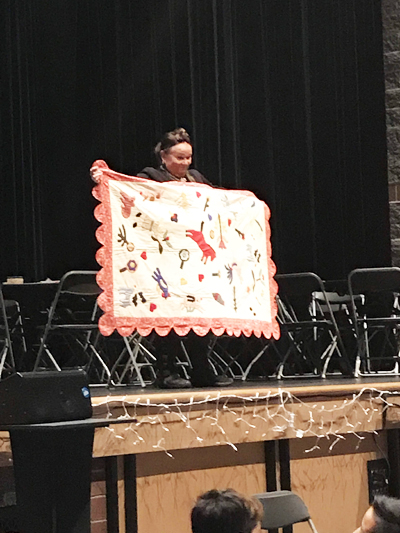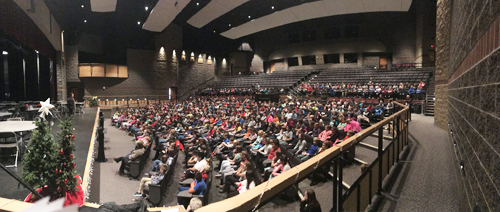 December 5, 2018
Five Allendale High School students selected for State Honors Choir
On December 1st, five Allendale High School choir students sang in the Michigan School Vocal Music Association Region A Honors Choir at Flushing High School. That same day, those five students auditioned for State Honors Choir. All five students received top scores, and were accepted on the basis of their auditions into State Honors Choir. They will perform on January 26th at 3:00 p.m. in DeVos Hall.  Pictured from left to right: Emily Hoekstra (12), Allison Judge (9), Brandon VanWyk (9), Emelia Grate (12), Lily MacOwan (12)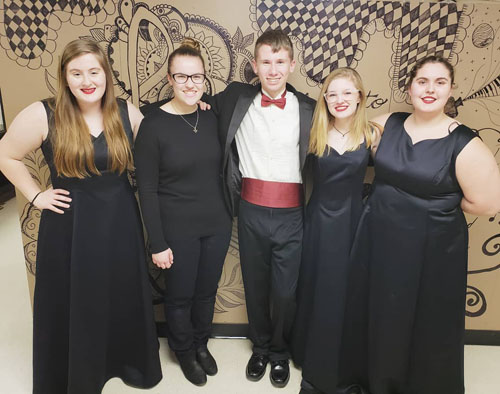 October 15, 2018
Love INC can help if you need winter apparel