Welcome to Allendale Public Schools
May 14, 2019
Sex Ed Advisory Board Will Hold Public Hearings
MEETING NOTICE
To comply with the Michigan Open Meetings Act (MCL 15.265):
Allendale Public Schools'
Sex Education Advisory Board (SEAB)
10505 Learning Lane
Allendale, Michigan 49401
(616)892-5570
Will hold a
PUBLIC HEARING
Tuesday, May 21, 2019 & Thursday, May 30, 2019
6:00-8:00 p.m.
Oakwood Intermediate School
Board of Education Conference Room
10505 Learning Lane, Allendale, Michigan
For the purpose of: The Sex Education Advisory Board (SEAB) of Allendale Public Schools unanimously recommends:
(1) a district-created reproductive health unit (5 lessons) for our 8th grade Health curriculum
(2) a district-created reproductive health unit (8 lessons) for our 9th grade Health curriculum
Curricular materials are available online (see links below), at the district office, and at the public hearings for review and comment.

Link for Comments
Allendale Public Schools will provide necessary reasonable auxiliary aids and services, such as hand signers for the hearing impaired, audio tapes of printed materials being considered at the meeting, to individuals with disabilities at the meeting (and/or hearing) upon two weeks' notice to Allendale Public Schools' District Office.
Individuals with disabilities requiring auxiliary aids or services should contact the Allendale Public School District Office and leave a message which includes (1) who you are/how to contact you, (2) what meeting and date you wish to attend, (3) what aid you are requesting.
Contact: Allendale Public School District Office – Administrative Assistant, Jennifer Kraai, (616)-892-5570; U.S. mail, 10505 Learning Lane, Allendale, Michigan 49401; or email kraaijen@apsfalcons.net.
This notice was posted by Jennifer Kraai, Administrative Assistant, to comply with Sections 4 and 5 of Michigan Open Meetings Act (MCL 15.265) at 3:00 p.m. on Tuesday, May 14, 2019 on window outside District Office, Door A, posted at least 18 hours prior to the start of the meeting.
I, Jennifer Kraai, Administrative Assistant, certify that the foregoing notice has been posted as specified above in accordance with the Michigan Public Act (MCL 15.265) as amended.
May 8, 2019
New Parent Resource Library Available in the Middle School
Thanks to an Allendale Foundation Grant, a parent resource library resides in the middle school.  At this time, it is small, but with donations and additions, it will grow over time. Ms. Wilson, the school counselor, shared this:
"Our parents are our first resource to our students. We live in a day and age where life is so busy that we often meet each other coming and going.  Parents need help navigating issues with their children so they can support them in their success. No one is an expert in everything, and many parents need education on a particular topic.  With their limited time, a book may be just the ticket."
All books are available in the middle school library for checkout.  Thanks to Mrs. Oros, our media specialist, the checkout system is efficient.  Books are available during the school day. However, if there is a title that you would like to read, we will put it up front for pick up.  We just need an email, phone number and approximate time your would return it.  Attached to the cabinet is a list of the titles for easy reference (see below).  We are also taking gently 'used' books that parents may have to share.
Current Books in the Parent Resource Library:
Shaken by Tim Tebow
This is the Day by Tim Tebow
Don't Stop Loving Me by Ann F. Caron, Ed.D.
Queenbees and Wannabes (3 copies) by Rosalind Wiseman
Look Me in the Eye by John Elder Robison
Grief and Recovery Handbook by John W. James
When Children Grieve by John W. James
Strong Mothers by Ann F. Caron, Ed.D
Why Do They Act That Way? By David Walsh, Ph.D.
The Explosive Child by Ross W. Greene, Ph.D.
Stop Negotiating With Your Teen by Janet Sasson Edgette Psy.D, M.P.H.
Your Defiant Child by Benton Barkley, PhD
Journeys by Methodist Hospital Eating Disorder Institute
The Journey Toward Freedom by Methodist Hospital Eating Disorder Institute
Late, Lost and Unprepared by Joyce Cooper-Kahn, Ph.D.
8 Keys to Parenting Children With ADHD by Cindy Goldrich
Girl in the Mirror by Nancy L. Snyderman, M.D.
How to Win Friends and Influence People for Teen Girls by Donna Dale Carnegie
Untangled by Lisa Damour, Ph.D.
The Pressured Child by Michael Thompson, Ph.D.
When We're in a Public, Pretend You Don't Know Me by Susan Borowitz
Conquer Negative Thinking for Teens by Mary Karapetian Alvord, PhD
Help Your teenager Beat an Eating Disorder by James Lock, MD, PhD
Dying To Be Thin by Ira M. Sacker, M.D.
Life Without Ed by Jenni Schaffer
Helping Your Transgender Teen by Irwin Krieger
The Learning-Disabled Child by Sylvia Farnham-Diggory
That Crumpled Paper Was Due Last Week by Ana Homayoun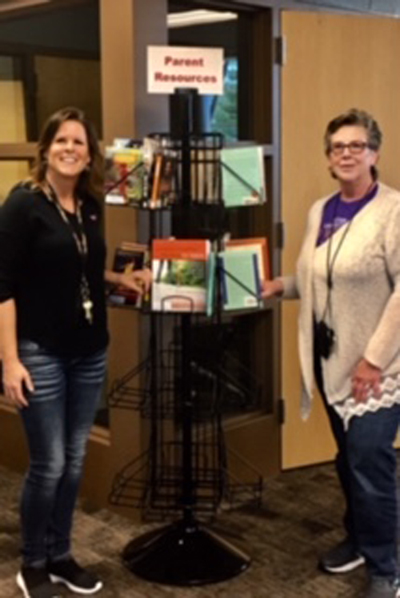 May 2, 2019
High School Science Olympiad Places 10th at State, Middle School Places 13th
Congratulations to both our High School and Middle School Science Olympiad Teams! 
High School
The 2019 Allendale High School Science Olympiad Team reached a milestone at the end of their season.   On Saturday, April 27th, the team traveled to Michigan State University to compete in the State Tournament.  The team's goal at the beginning of the season was to make it to States and earn a place among the top ten.  After a long day of competing, the Falcons reached that goal! Out of 60 teams at the State tournament, your Falcons placed 10th overall and came in 3rd  for Class B schools. The first seven places went to Class A schools.
The Falcons were led to victory by the seven seniors on the team. Their leadership throughout the season helped secure a fun and successful season.  The captains, Sam Brovont and Zach DuCharme, deserve a special shout out for their dedication and hard work over the past several months. They went above and beyond throughout the entire season and will be missed next year.
The Falcons scored in the top 10 in six out of the 23 events.  However, It takes a whole team to pull off a victory. The rest of their team pulled the weight by scoring in the upper half in 21 out of 23 events. All members should be proud of their accomplishments!  
Here is a list of our top 10 winners:
Cameron Elzinga and Jay Francis State Champions in Astronomy
Sam Brovont and Hannah Bekius 2nd in Forensics
Zach DuCharme, Jay Francis and Nick Heaton 7th in Code Busters
Zach DuCharme and Aston Marks 7th in Write It, Do It
Aston Marks and Jay Francis 10th in Dynamic Planet
Aric Suboski and Bridget Rozema 10th place in Mission Possible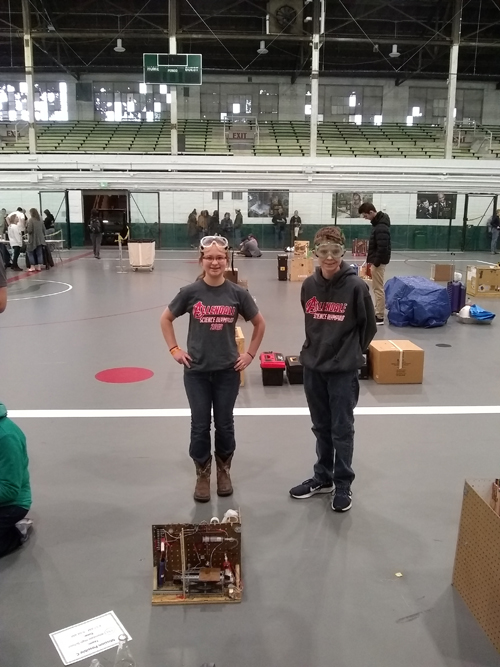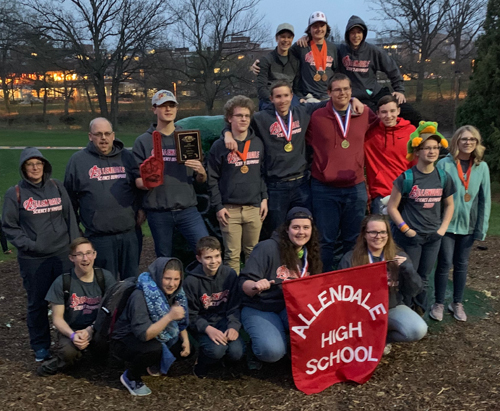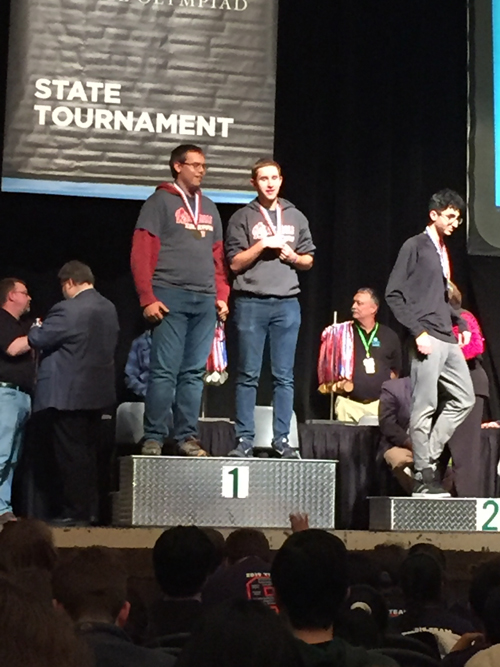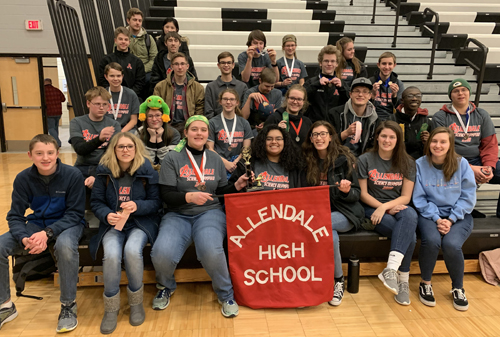 Middle School
Congratulations on the Middle School Science Olympiad team on their 13th place finish at State.  Only 60 teams qualified out of 300, so it was a priviledge just to get there and our students were awesome.
All-State awards go to Jacob Williams and Matthew Brovont in Fossils
Nolan Lehman, Mae Wittlief and David Smith were also All-State in Experimental Design.
Grace Scholten and Mae Wittlief were 1th in Crime Busters.
Also placing high were Lily Schmucker, Mia Placzek, Katie Holthof, Jack DeHaan, Corey Rozema, Jaden DuCharme, Liam Reynolds and Andrew Kurmas in various events.