Covid-19 Daily Update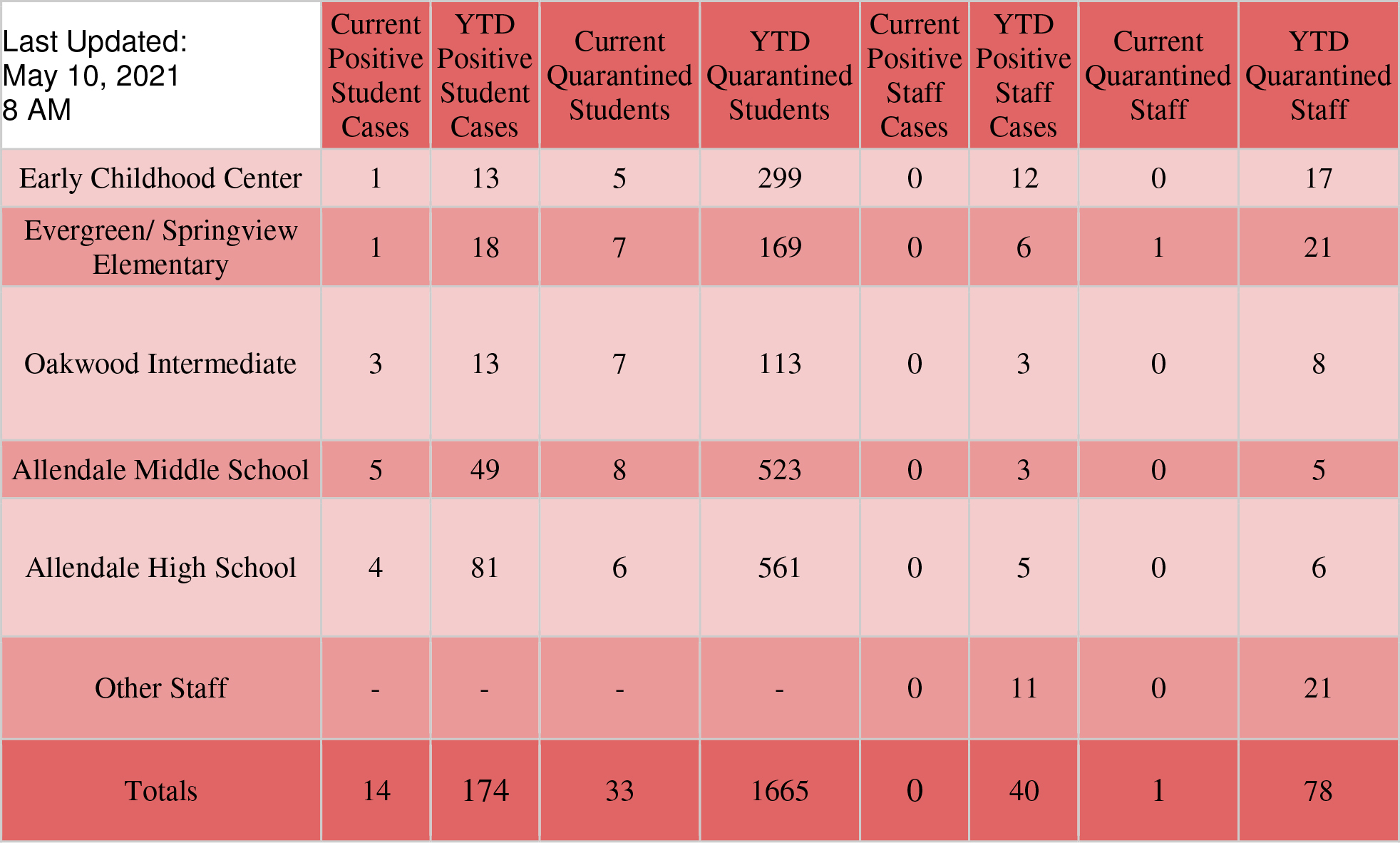 New Staff Cases Reported:
October = 4
November = 9
December = 12
January = 1
February = 1
March = 3
April = 10
May = 0 (to date)
New Student Cases Reported:
September cases = 2
October cases = 2
November cases = 14
December cases = 23
January cases = 13
February cases = 10
March = 15
April = 78
May = 17 (to date)
Notes:
-Other Staff includes ancillary staff, transportation, district administration, and operations not specifically assigned to a school building.
-APS follows all guidelines issued by the Ottawa County Health Department.
-Quarantined is determined by the Ottawa County Health Department and includes confirmed close contacts only.
-"Close contact" is an individual within 6 feet of a confirmed positive case for a minimum of 15 minutes.
-Close contacts are quarantined and therefore excluded from school for a minimum of 10 days.
-A "Confirmed Positive Case" is an individual who has tested positive for COVID-19.
-Confirmed Positive Cases are excluded from school until released by the Ottawa County Health Department.
-All Quarantined and Confirmed Positive Cases are kept strictly confidential.
APS Return to School Fall 2020 Plan
Allendale Public Schools
District Administration Office
May 6, 2021
Next APS Board of Education Meeting, May 10, 2021
The next APS Board of Education meeting will be on Monday, May 10, 2021, at 6 PM in the Ceglarek Fine Arts Center. The agenda is below. Please join us if you can.

Agenda
District Upcoming Events

8th Grade Awards

Location:

Ceglarek Fine Arts Center, 10760 68th Ave, Allendale, MI 49401, USA

Calendar:

Allendale Public Schools Events Calendar

HS Honors Convocation

Location:

Ceglarek Fine Arts Center, 10760 68th Ave, Allendale, MI 49401, USA

Calendar:

Allendale Public Schools Events Calendar

High School Graduation

Location:

Allendale High School, 10760 68th Ave, Allendale, MI 49401, USA

Calendar:

Allendale Public Schools Events Calendar

Undergrad Awards

Time:

12:00 PM to 1:00 PM

Calendar:

Allendale Public Schools Events Calendar

1/2 Day

Calendar:

Allendale Public Schools Events Calendar

1/2 day

Calendar:

Allendale Public Schools Events Calendar

Board of Ed Meeting

Location:

Oakwood Intermediate, 7267 Pierce St, Allendale, MI 49401, USA

Calendar:

Allendale Public Schools Events Calendar

Annual Allendale Community Field Day

Location:

New Middle School

Calendar:

Allendale Public Schools Events Calendar

Schedule ID: 191071 Setup / Breakdown: 9:00AM - 2:00PM State: Activated Room(s): - Rocket FB practice field - Parking Lot Organization: APS Contact Person: keith piccard Day-Time Phone: Cellular Phone: Email: Evening Phone: Fax: FSD Administrator: Gary Torno Phone: Site Administrator: Phone: Required Services: No Services Selected