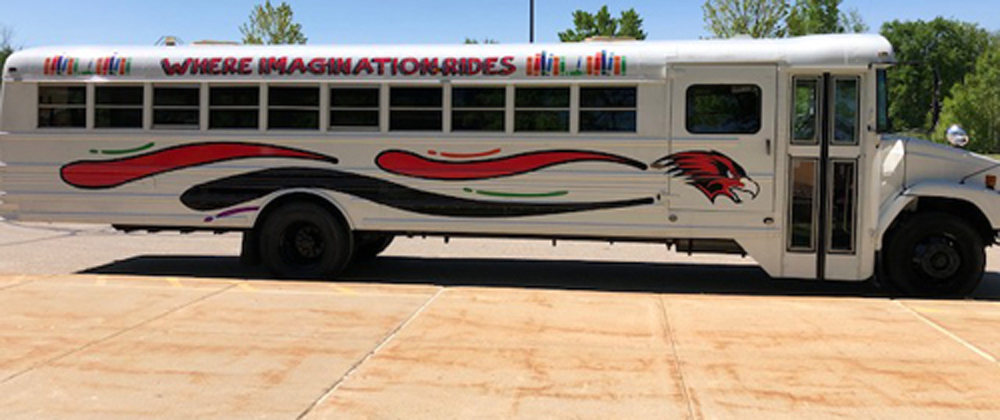 The Amazing Reading Bus
The Reading Bus is Back for the 2021 Summer!

The Amazing Reading Bus will be traveling to neighborhoods near you this summer beginning on June 21 and running through August 12! The bus is stocked with books for toddlers through middle school age students. It works just like a library, you may check books out and then return them when you are done or before the last day on the schedule. We are unable to stop at all of our Allendale neighborhoods, but you may visit any of the locations listed on the schedule to participate.

The Reading Bus will be resting July 5 through July 8, and will be back on the road on July 12. The week of August 9 we will visit each stop to collect books. Don't forget to watch for the bus in the Independence Day parade on July 3 at GVSU.
And, don't miss the Amazing Reading Bus participants party on August 13.

Wearing a face mask will be required to enter the Reading Bus. Other sanitizing and precautionary measures will also be in place to keep our visitors safe.

We do collect a parent phone number and email address in case of emergencies, for book return reminders and for contact tracing if necessary.


How many books will you discover this summer?

¡Vuelve el increíble autobús de lectura!
Amazing Reading Bus Schedule
Monday

Tuesday

Wednesday

Thursday

8:40 - 9:25

Little Bass Lane

off of 88th Ave

8:40 - 9:30

Winfield Drive

off of 52nd Ave

8:40 - 9:20

Placid Waters Drive

Off of 84th Ave

8:40 - 11:00

Learning Lane / Pine Valley Ct


K-5 Lit Camp at the location above

9:30 - 10:25

Butterfly Ct

off of 96th Ave

9:40 - 10:30

Hidden Forest

Barn Owl & Wild Duck

9:30 - 10:30

Good Time Friends

Elementary Bus Loop

11:10 - 12:05

Cameron Ave / Crabtree St

10:30 - 11:15

Meadows Pointe

off of 92nd Ave

10:40 - 11:20

Mista Drive

off of 64th Ave

10:40 - 11:55

GVSU Children's Enrichment Center

12:10 - 1:05

Rich St / Brookridge Dr

11:25 - 12:20

Highland Trails

off of Warner

11:30 - 1:00

Middle School

Athletic Entrance Parking Lot

12:05 - 12:45

Knollwood Estates

off of Lake MI Drive

1:15 - 2:25

EL Summer School

Evergreen parking lot

12:30 - 1:30

Allendale Meadows Clubhouse

1:10 - 1:50

Henry Street

off of 64th Ave

12:55 - 1:40

Boulder Ridge Clubhouse

off of 46th Ave

2:35 - 3:20

Hidden Shores West

off of 78th Ave

1:35 - 2:35

Allendale Meadows

Pine Knob & Chalet

1:55 - 2:35

Martinie Drive

off of 64th Ave

1:50 - 2:35

Sunshine Street

2:40 - 3:20

Dew Point West

Andrews & Comfort

2:40 - 3:20

Winnans Street

off of 64th Ave

2:40 - 3:20

Douglas Dr & Jordan St
Don't miss out on all of the good books, the weekly prizes and a weekly incentive raffle!!!
Support the Amazing Reading Bus
If you are interested in the Support a Shelf fundraising effort for The Amazing Reading Bus for this season, please click on the link below for more details.

Donations of $25.00 or more will be recognized with your name on one of the shelves.

Support a Shelf flyer