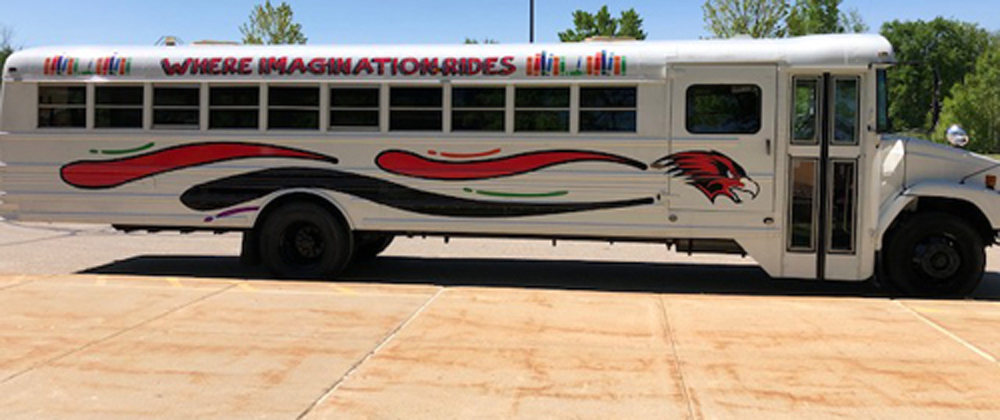 The Amazing Reading Bus
The Amazing Reading Bus Returns!
The Amazing Reading Bus will be traveling to neighborhoods near you this summer beginning on June 20 and running through August 11! The bus is stocked with books for toddlers through middle school age students. It works just like a library, you may check books out and then return them when you are done or before the last day on the schedule. We are unable to stop at all of our Allendale neighborhoods, but you may visit any of the locations listed on the schedule to participate.
The Reading Bus will be resting July 4 through July 7, and will be back on the road on July 11. The week of August 8 we will visit each stop to collect books.
Don't forget to watch for the bus in the Independence Day parade on July 4. And, don't miss the Amazing Reading Bus participants party on August 12. A Movie Extravaganza will be held on August 16 for all participants who have returned all of their books!
We do collect a parent phone number and email address in case of emergencies and for book return reminders. We will be using Class DoJo, which many of the elementary school teachers also use for communication with parents.
How many books will you discover this summer?
Amazing Reading Bus Schedule
Monday

Tuesday

Wednesday

Thursday

8:45 - 9:30

Little Bass Lane

off of 88th Ave

8:45 - 9:30

Placid Waters Drive

off of 84th Ave

8:45 - 9:30

Hidden Forest

Barn Owl / Wild Duck

8:45 - 11:05

Oakwood Intermediate School Bus Loop


K-8 Lit Camp at the location above

9:40 - 10:25

Dakota Drive

off of 92nd Ave.

9:40 - 10:30

Highland Trails

off of Warner

9:40 - 10:55

Good Time Friends

AECC Bus Loop

11:15 - 12:00

Valleyview

Off of Lake Michigan Drive

10:35 - 11:20

Deerway / Butterfly Ct.

off of 96th Ave

10:40 - 11:25

Lockwood / Lincoln

east of 60th Ave

11:05 - 11:55

Timbercreek / Creekside Drive

12:10 - 1:10

Love, INC.

off of 60th Ave.

11:30 - 12:15

Meadow Pointe

off of 92nd Ave

11:35 - 12:20

Knollwood Estates

off of Lake Michigan Drive

12:05 - 12:50

Watermark Drive

between Marsh & Waterpoint


1:20 - 2:15

Frostline / Eagle Nest Ct.

12:25 - 1:25

Allendale Meadows Clubhouse

12:30 - 1:15

Sunshine Street

off of 56th Ave

1:00 - 1:45

Boulder Ridge Clubhouse

off of 46th Ave.

2:25 - 3:20

Brookridge Drive / Rich Street

1:35 - 2:25

Dewpointe West

Comfort / Andrews

1:25 - 2:10

Douglas Drive / Jordan Street

off of 52nd Ave

1:55 - 2:40

Mary Elizabeth / Melanie

off of 60th Ave

2:35 - 3:20

Dewpointe West

Parker / Restful

2:20 - 3:20

Windfield Drive

off of 52nd Ave

2:50 - 3:20

Mista Drive

off of 64th Ave
Don't miss out on all of the good books, prizes and raffle drawings!!!
Support the Amazing Reading Bus
If you are interested in the Support a Shelf fundraising effort for The Amazing Reading Bus for this season, please click on the link below for more details.

Donations of $25.00 or more will be recognized with your name on one of the shelves.

Support a Shelf flyer