Employment Opportunities
**If you have an employment opportunity you would like to list please contact Kristin DeGroot at degrootkri@apsfalcons.net
Careerline Tech Center Job Board:

CTC Job Board
Burgess Concrete Job Posting:
Environmental Door Job Posting:

Job Posting Information
Herman Miller:

Careers Website Link
General Laborer:
Ground and general maintenance $10 to $13 per hour
**Lawn/yard – spread mulch, weeding, trim landscape, rake up debris. Fertilizing, mowing, lawn trimming, sprinkler repair, Edge driveway
General maintenance – clean buildings, paint, general repairs, other duties as needed
Must have drivers license or means of transportation
Must be self-motivating
Able to lift 50 pounds
Call or email Jerry Alkema 291-2183 or jerryalkema@gmail.com
The Great Bread Company:
We are hiring seasonal help for production at The Great Bread Company. We may be able to work around your school schedule until classes are done for the summer. Immediate start with part-time hours at our Allendale baking facility. Candidates should be able to lift up to 50 pounds, be on their feet for their shift, and work in a fast-paced but pleasant environment. We are a family-owned company and treat our employees like family as well. Duties may include measuring ingredients for multiple doughs, counting, sorting, and packing bread for orders, prepping doughs for baking, packaging and labeling breads for distribution, reading and accurately packing invoices for shipping. Hours vary depending on our baking schedule for the week. We start out slower in April and build to more days/hours as markets open for the season. A typical summer work week would be Monday through Wednesday with occasional Thursdays, usually starting at 8am and completing in the afternoon after baking and packaging is done for the day. We can work with your available hours until you are done with classes and may be able to keep you on in the fall around your class schedule as well. We are located near LMD and 48th Avenue (behind the Sleep Inn). Request an application at greatbreadco@gmail.com

Application Link
Hortech Inc.

Posting Information

Positions Available
Clarios:

Posting Information
Starbucks:
Our Jenison store is a newer location and with Starbucks starting to branch closer to Allendale I would love to let students and parents know of the benefits they offer and the company we are striving for. (616)215-6445 Please call Emily or Matt.
Starbucks offers a free bachelor's degree through ASU and I know that is a big help to many people looking to get a college education that might not be able to afford it.
Amazing heath, dental, and vision insurance.
Free food item every day and a drink if you are working or not that day, and a free pound of coffee to take home every week.
20 free counseling sessions through Lyra with a consoler of your choice, and premium membership to the app headspace.
We also consider all our baristas and managers "partners" in our company and provide stock for them they do not need to contribute too but can use when it is vested.
We offer flexible scheduling and easy ways to request days off.
Typically, our barista pay starts around 10.37 and we get about a dollar an hour with tips as well.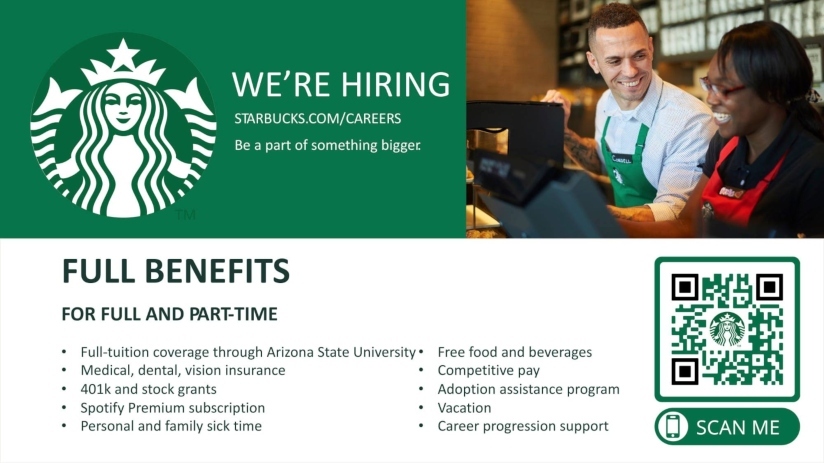 Schippers Excavating, Inc.
$14.00 per Hour!

Posting Information

Application