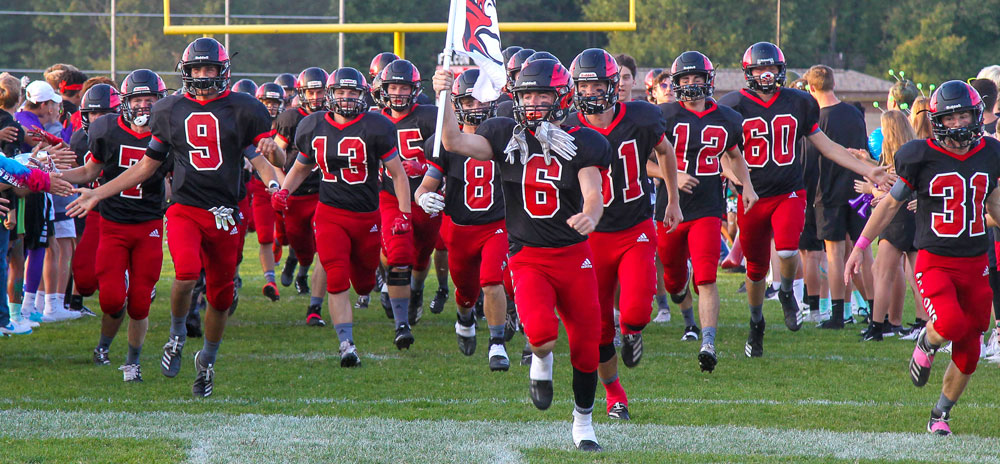 District News
August 10, 2020
Kindergarten & Young 5s Take Your Bus to School Event on August 12 Canceled
We are sad to report that this year's ride along night has been canceled. We know this is something that families as well as our staff look forward to every year, so the decision was a difficult one to make.
Please keep an eye open for a special video from your transportation team that will be posted soon with all the information we would normally go over during our time together.
Thank you for understanding.
August 6, 2020
Board of Education Meeting Monday, August 10 at 6 PM
Our next Board of Education meeting will be held via Zoom on Monday, August 10, 2020, at 6 PM. The meeting link is below.
Join Zoom Meeting
Meeting ID: 825 8425 1140
Passcode: jr6exx
August 1, 2020
Apply for School Meal Assistance
July 30, 2020
APS Gets New Buses
Allendale Public Schools was awarded a grant to replace 7 older diesel buses with new propane buses through the Michigan Department of Environment, Great Lakes and Energy. Read the full story:
July 29, 2020
Governor's Return to School Roadmap
We understand there are a lot of questions about what school will look like for students choosing the face-to-face school option this fall. Your child's safety as well as the safety of our staff continue to be a top priority as we prepare to reopen school buildings. Our district will follow the Governor's Return to School Roadmap and comply with all of the Required safety protocols. In addition, our goal is to comply with as many of the Strongly Recommended and Recommended safety protocols as possible which are also outlined in the Roadmap. Michigan is currently in Phase 4 of reopening, therefore, the guidelines we are currently following for reopening are pages 21-36. We will continue to closely monitor the situation and make adjustments as needed to keep all students and staff safe, while continuing to meet the schooling needs of our community.
July 16, 2020
Return to School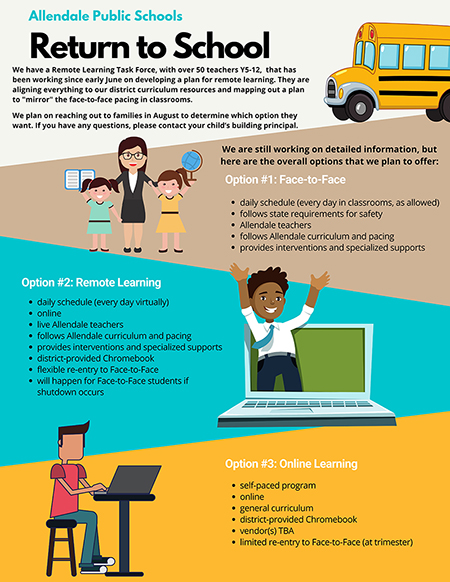 July 6, 2020
Allendale High School Class of 2020 Top Ten
We want to recognize the seniors that make up our Top 10 highest ranking GPAs for the Class of 2020. These incredible seniors lived the Falcon Mindset each day as they devoted huge amounts of hard work, perseverance, sacrifice, and determination towards achieving the highest GPAs in their class. Please help us recognize and celebrate these Top 10 seniors!
1. Dakota Riemersma: 4.406
2. Kian Barnes: 4.286
3. Brianna Bredeweg: 4.234
4. Logan Heft: 4.222
5. Rachel Sinnott: 4.214
6. Kaden Adams: 4.184
7. Halle Battjes: 4.176
7. Sarah Brumels: 4.176
9. Lawton Courteau: 4.170
10. Jazzmin Finney: 4.161
10. Sydney Shaw: 4.161
July 6, 2020
Meet our Administrators: Evergreen Elementary & Oakwood Intermediate
After serious consideration over the past few months, APS created an administrative staffing plan for our elementary and intermediate schools that will meet the needs of the students and staff while being fiscally responsible in these complicated economic times.
June 2, 2020
AMS is a Michigan School Wellness Award Winner
Allendale Middle School has been awarded a Michigan School Wellness Gold Award.