National Honor Society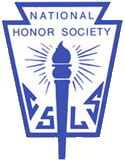 The National Honor Society's objective is to create an enthusiasm for scholarship, to stimulate a desire to render service, to promote worthy leadership, and to encourage the development of character in all students of the Allendale High School.
About NHS
Membership is by invitation and application, with evaluation on four levels: academics, service, character and leadership
NHS sponsors community service, blood drives, and other charitable events throughout the year.
NHS members are required to perform a minimum of 30 service hours as part of their commitment to the community.
Contact: